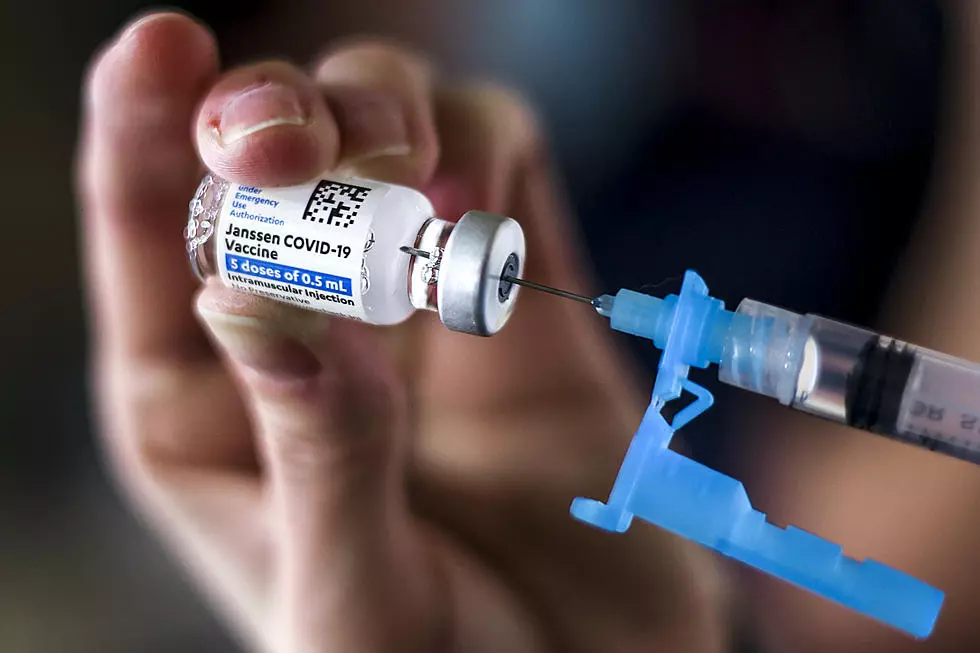 Did A Pro-Vaxer Really Says "Ship Them Off To Internment Camps"?
Getty Images
Today(9/3/21) on the Morning News we spent some time talking about the behavioral changes taking place in society due to the pandemic. An editorial piece in the Yakima Herald republic (YHR) spoke to how people have lost empathy and have no sympathy for people who speak against the vaccine, don't get vaccinated, and then get sick.  In fact, "No sympathy" may be a bit soft...how about "dancing on their graves" as a more accurate description.
You Actually Wrote That???
A letter to the editor in the same paper (YHR) by Mr. Michael Martin suggested  unvaccinated persons, you know, -the "stupid, selfish, idiots"- should be rounded up and put in internment camps so "the rest of us can live life again."  Really? Back to normal life again? Whew!  Except the CDC says vaccinated or not, mask up, hose down and separate...how's that any different than what the new normal was before the vaccines became available?  It's not.
So much for "Love your neighbor as yourself."
The Anti-Antivaxer Sentiment Is Growing
As ridiculous as Mr. Martin's suggestion is, he's not alone in his opinion and that's the point of the editorial.  Our tolerance is way down, the name-calling is up.
Radio Ink, an online Radio industry newsletter shared this today.  Conservative talk show host Erick Erickson recently lost a healthy family member to COVID-19. This week, on his WSB-AM Atlanta program, Erickson said - organized efforts to undermine trust in the vaccine were deeply evil and sin.  "Listen to this, you idiots. What I care deeply about though is that some of you are scared of getting [the vaccine] because you've heard people on the internet lie to you and you don't know that they're lying. I don't care that you don't want the vaccine. But if you're out there spreading lies and misinformation and disinformation and willfully undermining people's trust with a vaccine, I care about that a great deal."
You can understand the passion with his having lost a family member to the virus but the opening line of "Listen to this, you idiots" is not the way to win friends and influence people on the radio.    And who gets to say which "science" amounts to "lies and misinformation" on the internet anyway?
Looking For A Scientific Leg To Stand On
Think back. Sift through the flip-flops from science.  Weren't we told  - Get the vaccine to STOP THE SPREAD?
OK, well. that was then, this is now and the now CDC sings a different tune.  According to a CNN report "Fully vaccinated people who get a Covid-19 breakthrough infection can transmit the virus, US Centers for Disease Control and Prevention Director Dr. Rochelle Walensky said Thursday.... "Our vaccines are working exceptionally well, they continue to work well for Delta, with regard to severe illness and death -- they prevent it... .But what they can't do anymore is prevent transmission.
You hear that Mr, Martin...over the roar of the first trainload you want to be sent off to the camps?  It's from the head of the CDC.  Reread it at least one time before you start loading up the cattle car with people you want heading off to internment camps?
Unsettled Science? Try To Keep up
And while we're at it, how is this for "settled science"?   An epidemiologist from Vandertbet University writes, " Research suggests that undocumented cases of COVID-19 in people who either were asymptomatic or experienced very mild disease could be responsible for up to 86% of all infections, though other studies contradict the high estimates."  Whatever the level, keep in mind that some of the vaccinated are among those with minor to no symptoms who are partly responsible for the spread.
The takeaway from the article written by Sanjay Mishra, PhD Project Coordinator & Staff Scientist, Vanderbilt University Medical Center is this -- "Vaccines can be great at preventing you from getting sick, while at the same time not necessarily stopping you from getting infected or spreading the germ".
So, if vaccines don't stop the spread, can we stop the train Mr. Martin... or has it already left the station with the first load??
All The Gurus Are Saying It
Here is a headline from a Seattle TV station's website --  Can I still spread COVID-19 after getting vaccinated? King 5 news out of Seattle writes, "A world-renowned epidemiologist in Seattle says it's still possible to spread the virus after being vaccinated, so masking up and social distancing remains critical."
I guess Mr. Martin must think being locked away at an internment camp is the tough love equivalent of social distancing?
One last dose from the CDC as it pertains to the people who want to push from society those other people who haven't been vaccinated yet so "the rest of us can live life again." 
And The CDC Says...
"
Evidence suggests
that fully vaccinated
people who do become infected with the Delta variant can spread the virus to others.
To reduce their risk of becoming infected with the Delta variant and potentially spreading it to others: CDC recommends that fully vaccinated people:
Wear a mask in public indoor settings if they are in an area of substantial or high transmission.
Get tested if experiencing COVID-19 symptoms.
If you came into close contact with someone with COVID-19 get tested 3-5 days after the date of your exposure and

wear a mask in public indoor settings for 14 days after exposure

or until a negative test result.
Isolate if they have tested positive for COVID-19 in the prior 10 days or are experiencing COVID-19 symptoms.
Follow any applicable federal, state, local, tribal, or territorial laws, rules, and regulations.
Sound like "living life" again?  Look, for the pro-vaccine people, I get it.  Getting the shot will likely help your medical outcome if you do get COVID and it can reduce the likelihood that you get it. That's GREAT!    BUT...keep in mind the vaccine's efficacy IS going down and the "breakthrough cases" are increasing and virtually ALL the medical gods and gurus agree with CDC Director Dr. Rochelle Walensky when she says "Our vaccines are working exceptionally well ...with regard to severe illness and death -- they prevent it... .But what they can't do anymore is prevent transmission.
Can We Give It A Rest Before It's Too Late?
So to Mr. Martin and all the other POLITICAL, frightened, fearful, fanatical, vengeful folks out there who would seek to ship off their fellow Americans because they haven't been vaccinated yet, I can assure you, the "send them to camp' approach won't get you what you want ...unless what you want is to move another step closer to the next civil war.
Better spend the Labor Day weekend searching for your compassion and respect for your fellow Americans, maybe reread the Constitution and the Declaration of Independence and toss in a couple of books from the Bible while you're at it. PEACE.
KEEP READING: Learning From Mistakes During the Spanish Flu