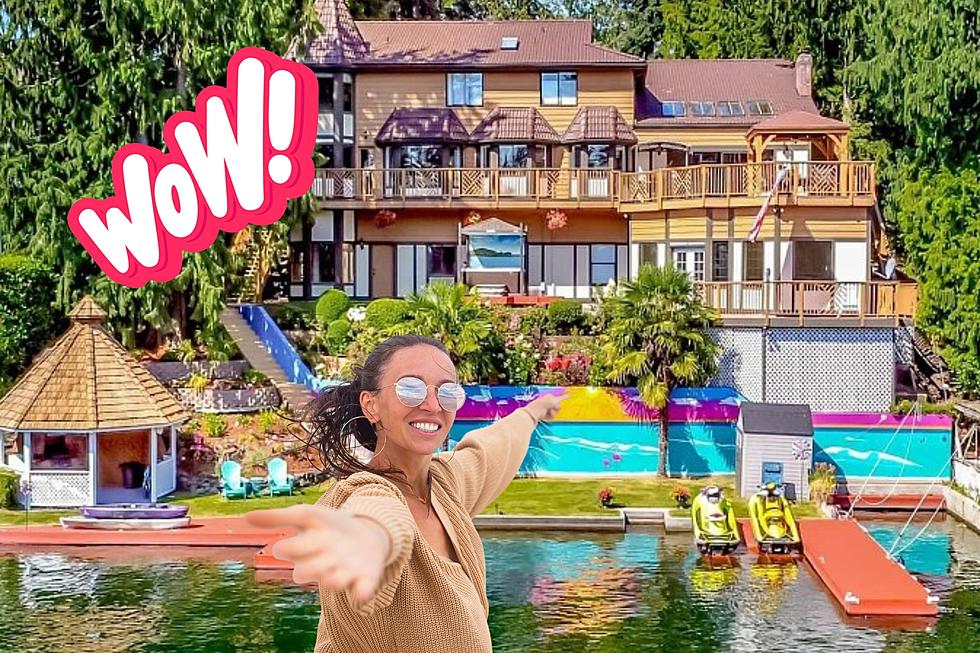 WA Lakefront Paradise Packs Perfect Recreation for End of Summer
Airbnb-John
This stunning lakefront home in Washington is calling for you!
And, if you don't answer that call, I will. It's an Airbnb property hosted by John on Lake Tapps. John and his wife are empty-nesters who raised 4 children in the spacious home. They want to share their paradise with you.
The rental is for the entire, lower 3-bedroom guest wing. I know I'm not the only one who will be reserving it. It's perfect for everyone, especially lake-lovers.
What amenities does this home have? According to the Airbnb listing:
This home offers 100 Ft of waterfront, multiple docks, decks, patio space. Plenty of room to bring your boat and Seadoos. Featuring a waterside gazebo, BBQ, firepit, kayaks, and float tubes. There's even a hot tub at the ready with a power lift gazebo cover. Come and enjoy a slice of heaven in our home.
WA Lakefront Paradise Packs Perfect Recreation for End of Summer
This beautiful 3-bedroom home on Lake Tapps is all that and more. The stunning view of Mount Rainier from the island brings the breath of fresh air with your morning coffee. Whether you're lounging in the hot tub or cruising the tranquil lake, everyone is sure to be at peace, here. There's plenty parking for entertaining and a gazebo, BBQ, and firepit. There's also room for your boat and water toys, with 100 feet of waterfront. And, the price is right at $280 a night.
Check out the reviews! They're AMAZING:
It was everything we expected! Our older kids, husband and I, had a great time in the lake that was easy to get to! We had a blast on the kayaks, paddle board and hot tub! The house was quiet and clean! We loved the whole experience!- Kim

Our group and family had a lovely time at John's! Including our infant daughter! The water was perfect, with enough depth to dive off the dock but also a shallow area to wade for our baby. We also enjoyed what was probably the nicest and easiest to use hot tub we have seen in an Airbnb as well as the grill for our meals. The inside was also lovely with plenty of room for six adults. The interior room was also ideal for naps and an early bedtime for our daughter since it was dark and quiet. And of course, the beds were extra comfy for mom and dad! Overall, we had an amazing experience and would absolutely return.- Lauren
Book your vacation at this lakefront paradise on Lake Tapps here.
Cozy Coho Cabin Is Worth The Drive from Tri-Cities...
If you're looking for a rustic stay with unbelievable views of Skagit Bay, THIS is the place for you! Beautiful waterfront views are all yours with a wonderful comfy stay. This cabin can accommodate 3 people. Sightseeing, hiking, and more await you!
Top 10-Tri-Cities Campgrounds
10 Best Campgrounds in the Tri-Cities
LOOK: This Washington Cabin is Straight Out of an 'I Spy' Book
This place will basically make you feel like you're inside one of the popular books.