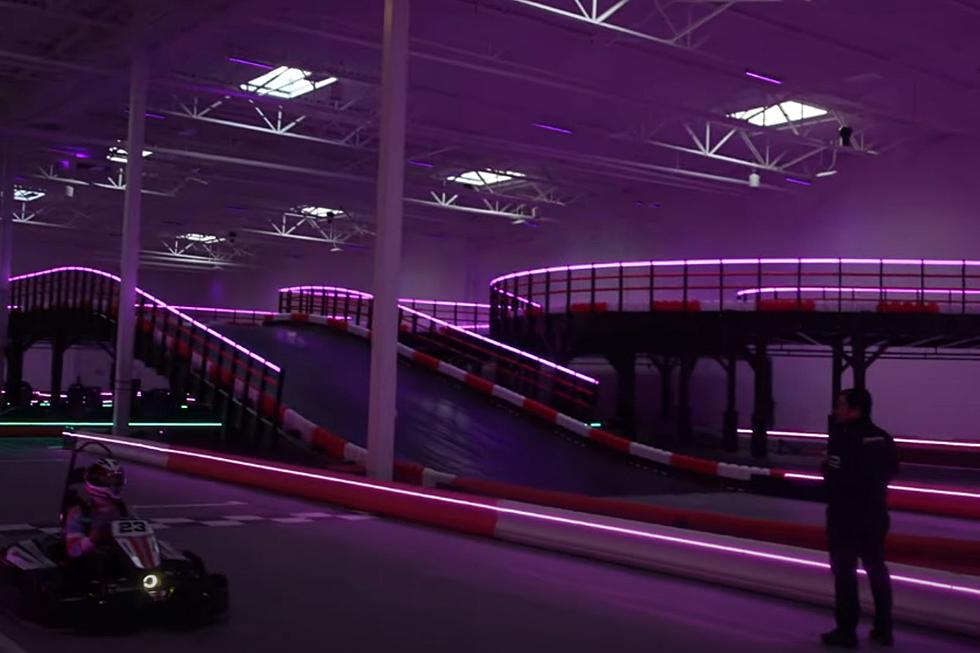 This Real-Life Mario Kart Track is a Short Drive from Tri-Cities
credit YouTube/@CannonDowns
If you live in Washington or Oregon, how far would you drive to experience a real-life Mario Kart track with multiple levels, lights, and more? Turns out it is closer than you probably think!
Mario Kart Racing in the Northwest
There is a new indoor go-cart facility that has just opened in the northwest that is the closest thing you can get to real-life Mario Kart racing.
Double Decker Tracks with Lights
It features two-story double-decker tracks with led neon lights outlining both sides of the track for unique night racing. The entire track is indoors so you can race all year long and never have to worry about the weather or conditions.
Drive Better, Get a Faster Go Cart
One of the cool features of this new go-cart facility is the safety features built-in to the design. They have multiple classes of carts for both kids and adults with electronically controlled speed limiters.
Upgrade or Level Up Your Cart with Faster Race Times
The top speeds of the carts can be unlocked based on your experience and running faster lap times. They keep track of each racer's lap times, and the better you drive, the faster your cart can actually go.
Carts range in speed from 20 mph for kids to 45 mph for fully unlocked adult carts.
New Special Safety Barriers Surround the Tack
The track pieces are specially designed and installed by a company in Italy called Extreme Barriers. The design called OverUp includes modular track pieces that allow for multiple levels with safety borders surrounding the entire design.
They describe the tracks on their website as:
"OverUp is a modular system of elevated track that will give the raiders the thrill of their lifetime."
6 Different Track Possibilities
The main website says they have two tracks that can merge into one large Super-track. They also can change to create 6 different track options because of the modular design of the OverUp track.
That means lots of variety for go-cart lovers to sharpen their driving skills on.
Yes, They Have a Mario Day
They do celebrate Mario Day every year, where you can dress like Mario and race for only $18.
Mario Day is every year on March 10 (get it, Mar-10...Mario). You missed it this year, but if you want to go next year there are some things you need to know. I mean, besides getting a Mario costume.
Mario Day Rules
First, you only get the discount if you dress as Mario. Other Mario characters will have to race for the full $25 price.
Second, you only get ONE RACE discount of $7 with your Mario costume for a total of $18. You can not buy races all day for $18.
Mario Discount is Only on Mario Day
There is no rule that says you can't dress like Mario any other day of the year, so go back anytime and get some use from that costume.
You just don't get a discount for your wonderful fashion sense, but I am sure other drivers will appreciate racing against the one and only Mario.
Where is This Real-Life Mario Kart Track Located
It just opened at a new K1 Speed facility in Meridian, Idaho which is very close to Boise. The full address so you can find it easily is 1135 N Hickory Ave Suite 100, Meridian, ID 83642.
They are open MON-THU: 12:00 PM - 10:00 PM, FRI: 12:00 PM - 12:00 AM, SAT: 10:00 AM - 12:00 AM, and SUN: 10:00 AM - 10:00 PM.
K1 Speed Has Tracks All Over the USA
K1 Speed uses all-electric go-carts with high-torque and zero-emission electric engines.
"K1 Speed locations are world-class entertainment venues that are designed to keep you entertained and engaged, whether you're on or off the track."
New Go Cart Facility Options
The new K1 Speed facility in Boise also offers catering options, private room rentals, and custom race packages to make any family event one-of-a-kind and memorable.
Check them out on their website at k1speed.com. If you want to learn about Mario Day, check out their Facebook post here or their official website.
25 True Crime Locations: What Do They Look Like Today?
Below, find out where 25 of the most infamous crimes in history took place — and what the locations are used for today. (If they've been left standing.)