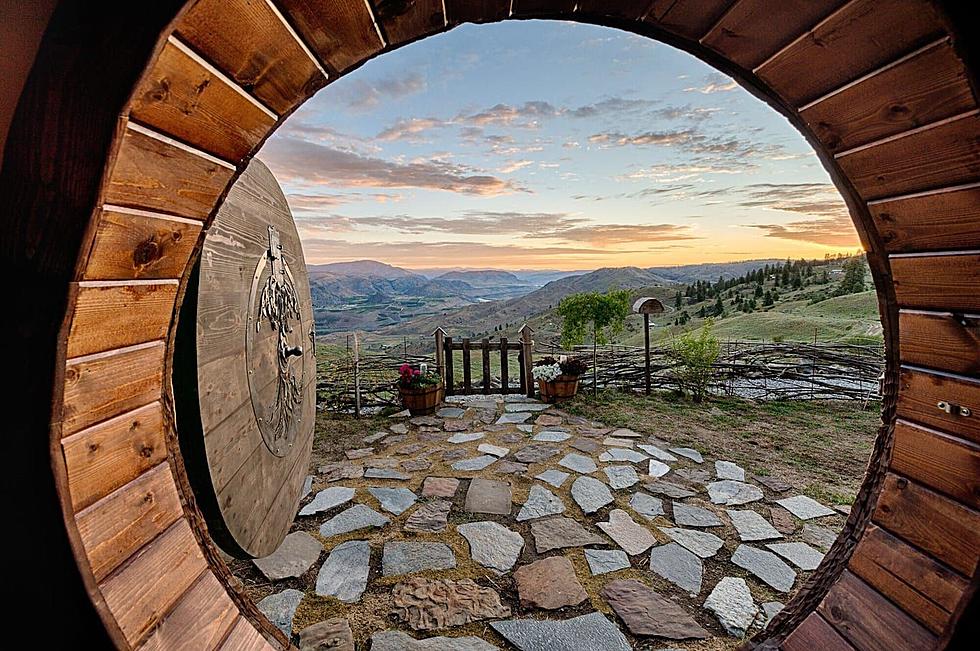 Escape to One of These 10 Amazing Washington Airbnb's and Vrbo's
credit:kristiemaewolf/airbnb
The weather is getting nicer and now it's time to start planning those spring getaways.

We've been compiling some of our best getaways and we've got 10 amazing getaways that you can check out and start planning an amazing getaway.
Check Out 10 Washington Getaways That You'll Love
We've got all your favorites from Packwood to Hood River and all the way to Idaho for an amazing Potato Hotel.
Our top 10 favorites have been compiled throughout 2021 and we are showcasing them below for you.
10 Awesome Airbnb's And Vrbo's Worth Checking Out In Washington State
Patti writes about this property:
Stay aboard this luxurious 78'Classic Linmar and enjoy living on the water in style in beautiful Gig Harbor. What a wonderful way to spend time with your family or friends or host your next party or celebration
Taste Luxury Aboard This 78' Yacht Airbnb in Washington
Live the high life on this luxury yacht available for a once-in-a-lifetime stay in Washington. For the past 80 years, the 78' Classic Linmar said to South America, Alaska, and up and down the East Coast.
After an electrical fire in 2005, the boat was deemed a complete loss. Thankfully, a man with a magical vision transformed the boat to its former grandeur.
Book your next vacation or celebration onboard this glorious yacht at Gig Harbor.
Rik writes about this property:
The cool thing is this property is owned by a Tri-Cities couple. Jurassic Retreat is located in Washougal Washington, about 30 miles away from Portland and it's an amazing homage to the Jurassic Park movies.
Washington Jurassic Retreat Rental Is A Roaring Good Getaway
Check out this amazing Washington Jurassic Retreat that you can escape to for an awesome getaway.
Dome Sweet Dome located in Battle Ground Washington is about 11 miles north northeast of Vancouver and 32 miles south-southwest of Mount Saint Helens.
Dome Sweet Dome Is An Amazing Washington Getaway
Talk about a unique getaway in Washington State, Dome Sweet Dome would be the perfect remote staycation. Take a peek inside one of Washington's Airbnb's that could be your next getaway
This giant potato hotel near Boise has to be one of the more unique getaways that I've seen and yes there's even a cow in a field next to you to give that true Idaho experience.
Giant Idaho Potato Hotel Is Gorgeous Inside
Yes, you can stay inside this amazing giant potato in Idaho. Take a peek inside this awesome 'tater and mark it on your bucket list for your next getaway.
If you are looking for a truly unusual Airbnb, the Hobbit Hole near Lake Chelan is worth peeking inside of.
Surprising Hidden Hobbit House Is Lake Chelan's Most Unbelievable Getaway
Check out this awesome Hobbit House in the hills of Lake Chelan. It's the perfect getaway for the fantasy fan in you. It looks amazing even in Winter. I hear Frodo calling you now! Take a peek inside this truly unique Airbnb in Washington State.
Looking for the perfect place to take your outdoor enthusiast? I think we've found the perfect place for you right on the border of Washington and Idaho.
You Can Rent This Unbelievable Idaho Lookout VRBO
It's only a few hours away from the Tri-Cities and you could stay in this unbelievable VRBO that has views to die for. If you are a fan of Lake Coeur d'Alene, you'll love this place.
Patti writes about this property: affordable Hood river retreat is perfect For a family getaway, vacation is what it's all about. This beautiful home has 4 bedrooms, 5 beds, and sleeps 8. According to vrbo.com the rental scores an excellent rating of 4.6 out of 5
Affordable Hood River Retreat is Perfect For a Family Get Away
Vacation is what it's all about. This beautiful home has 4 bedrooms, 5 beds, and sleeps 8. According to
vrbo.com
the rental scores an excellent rating of 4.6 out of 5
This Packwood Washington cabin is the perfect holiday getaway and even if you aren't in a Hallmark movie, you can live like you are.
Super Cute Packwood Cabin Is A Perfect Winter Getaway
want to getaway? check out this super-cute Packwood cabin that's the perfect winter getaway
Stay local with this amazing Grain Bin Airbnb right here in Pasco
Check Out The Grain Bin Inn Airbnb In Pasco
Take a tour of the Grain Bin Inn in Pasco
Pete writes about this property:
The Shedd is an 800 square foot Airbnb just a skip away from downtown Leavenworth that offers natural beauty and a cozy feel you can only get in the Pacific Northwest.
Leavenworth Airbnb
You can stay at Brucke Zum River Haus for $899 per night. Stay in total luxury.
There you go, 10 amazing vacation places to check out. I hope you find an amazing deal no matter where your travels take you.
Step Into Touchet's Most Expensive Home
Touchet Washington's most expensive house is for sale and you'll live like a movie star on this property.