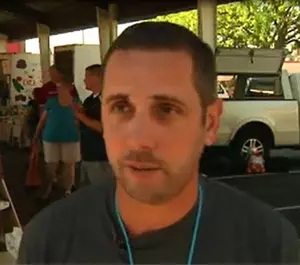 Former Pasco Downtown Development Director Out of Jail
Michael Goins (Mark Mingura-KNDU TV)
The former director of the Pasco Downtown Development Association has been released from the Washington State Penitentiary in Walla Walla after serving five months of his one year prison term.
In 2015 it was discovered Michael Goins had embezzled at least $90,000 from the association for person use, and was arrested, tried and given a year. Officials with the Association discovered the missing money when they began to get notices about unpaid bills, and discovered tax issues with the IRS.
Goins, who came from New Jersey, had reportedly used the money for back child support, personal bills and other expenses. Unconfirmed reports indicate he'd had similar issues on the East Coast, but these were not apparently or known at the time of his hiring in Pasco.
Franklin County officials say the Washington State Auditors office is still going over the books of the Association to determine if Goins took additional funds. It's expected he will face more jail time if discrepancies are discovered.
Goins will be back in court in September when the court will determine what the amount of his restitution will be to the Association, which is partially funded by taxpayer dollars.