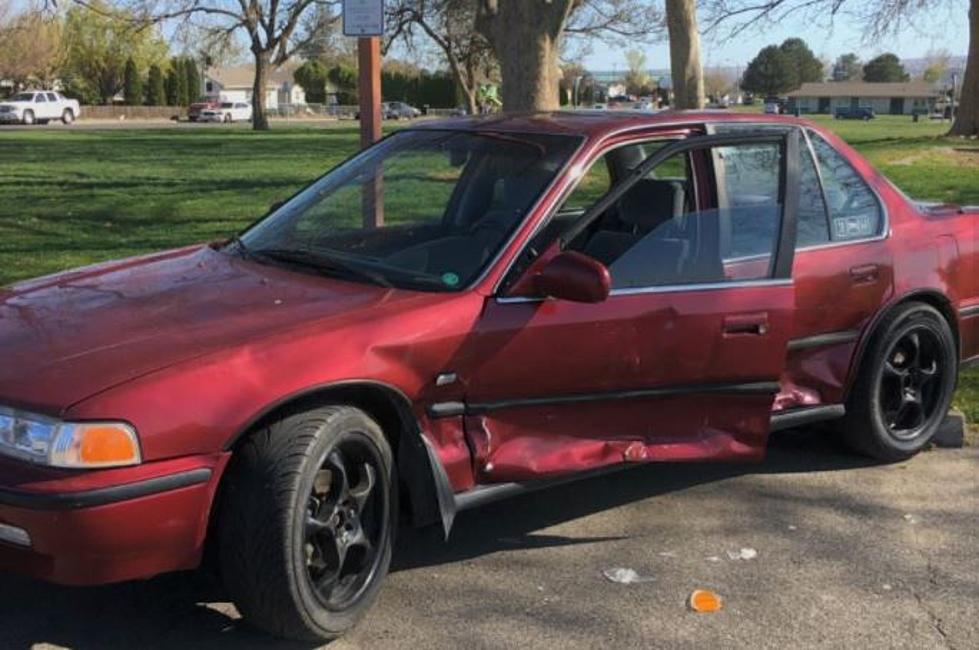 Hit And Run Driver Leaves Imprint of License Plate in Victim's Car
Teen driver slams into car on purpose (PPD)
Besides a decent description of the suspect vehicle from the victim, Pasco Police were greatly aided by what the suspect did themselves.
Pasco officers report they've apprehended a 17-year-old juvenile male after he allegedly rammed a mini-van into another vehicle Sunday afternoon.
According to Police, the incident occurred in Highland Park. The victim said he was parked in his car, the red car in picture when the male driver sped up and t-boned him just in front of the driver's door. He then backed up and hit him again. The driver then sped off in his brown minivan.  The victim's account and Police investigation led them to believe it was fully intentional.
Fortunately, the victim driver was not hurt. He was able to provide somewhat of a description of the suspect, and some details and color of the van; but not the license plate.
However, it was the second impact by the suspect that left Police a big slice of evidence. Officer Ana Ramos noticed the second impact was so hard the embossed, or painted, letters on the van's front license plate smudged off onto the victim's car.
Although they were slightly smudged, and backwards, she could clearly read most of the letters and number.
That, coupled with the description of the vehicle made it relatively easy to identify. Officers then went to the home of the registered owner, and arrested the teen driver.
He is now facing multiple juvenile charges for Second Degree Assault and 1st. Degree Malicious Mischief! Talk about forensic success!
LOOK: See the iconic cars that debuted the year you were born