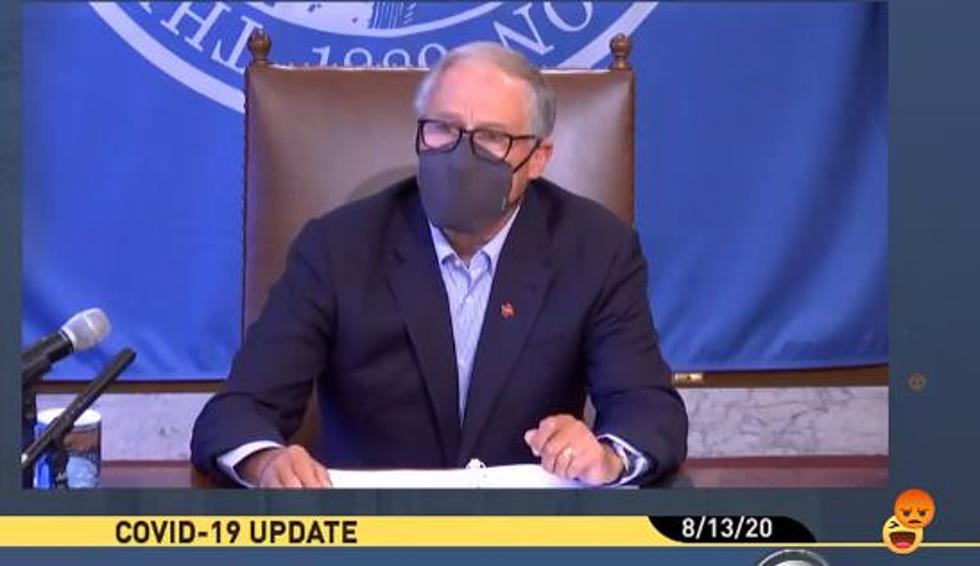 Inslee Pushes Testing During Press Conference
Inslee pushes testing in press conference (TVW)
Thursday, Governor Inslee pushed hard for testing during his press conference.
In mentioning Okanogan County, Inslee pushed for the testing, saying local officials there asked for increased testing. He also said "we need the cooperation for people to get tested."   He is sending the National Guard mobile testing station there. He said he had just come from a visit there to learn about the rise in cases.
It certainly appeared he supports an approach that differs from many other health professionals. Many sources say a person should not get tested unless the present symptoms or signs of COVID-19. Inslee believes in getting as many people tested as possible, at least based upon his comments.
Inslee talked about the Immigrant Relief Fund, the $40 million set aside to help undocumented workers.  Another $3 million through what's called the Food Production Need Program, also designed to assist food produces.
Inslee claims there are people unwilling to isolate because they had to provide for their families. He said these funds will help those persons seek the care they need.
Inslee also said COVID has taken a 'disproportioniate' effect on communities of color, especially in the ag industry. He said the money is originally part of the CARES Federal dollars.
Inslee said the state has distributed nearly a billion dollars to local communities to help offset effects of COVID-19.
Around 12:28 he launched into a dissertation about the long term complications associated with COVID-19.  He claimed that many people who have been 'through' COVID have not returned to usual health 2-3 weeks after they had a positive test. He claimed the CDC says 35% were in that category.  He also claimed younger persons who had COVID, 1 out of every 5, were not back to their usual health, again from the CDC.  He had a medical profressional  Dr. Reido join him discussing this.
It was obvious Inslee was attempting to counter growing arguments that COVID and the flu are closely related.  It was clear that Inslee was using this data to support his premise that COVID is far more deadly, and in turn, would support his proclamations and policies.
It certainly appeared to be that way.
To watch the press conference for yourself, click on the button below.
Enter your number to get our free mobile app