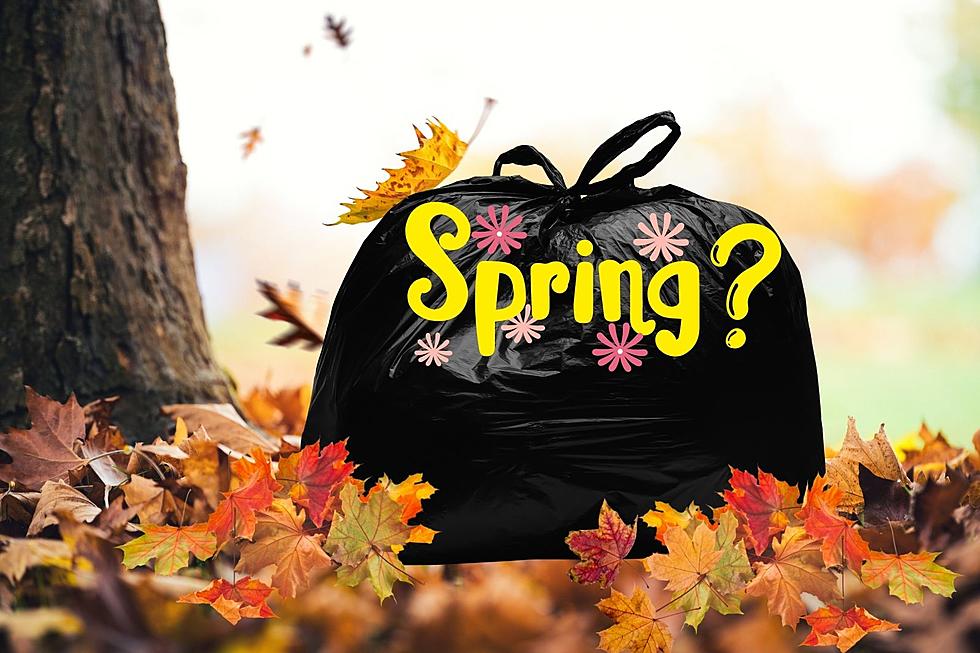 Will Tri-Cities Garbage Pick Up Extra Bags of Leaves This Spring?
Canva-Getty
Clearing my yard after this Tri-Cities winter has left me with multiple large bags of leaves I need to throw away. My garbage can is already full this week but will the city garbage man pick up my extra bags of leaves anyway?
Throwing Away Extra Bags of Leaves in Tri-Cities
The thing about living in the Tri-Cities is, you never have any shortness of wind. Even if you clean out all your leaves in the fall, tons more blow into your yard from around the city.
This spring I had 4 large bags of leaves from my front yard alone after the first round of yard work this weekend. I managed to put some in the trash can but multiple bags wouldn't fit so I left them sitting next to my garbage can. Will they just pick them up?
Disposal Depends on Which City You Live In
The answer to that question really depends on which city you live in.
I live in Kennewick but had never researched the actual garbage rules about picking up extra bags of leaves. I know there are times when they do, but I wasn't sure if they did all of the time.
I left the bags out by my trash hoping they would be picked up, but when I got back from work the bags were still there.
The garbage man had left them right where I put them. So what are the rules anyway?
Kennewick Extra Bags of Leaves Policy
After doing some quick research, it turns out that Kennewick is the least likely to pick up extra bags of leaves than the other cities.
The City of Kennewick website says "there is an additional charge for each extra bag or container (32-gallon, 65 lb. limit) that doesn't fit in your garbage container with the lid closed" and leaves a link to their regular charges page.
The only additional charge fee I see on their link is $2.70, which I would have gladly paid to have them removed. According to their website, the bags should have been picked up for an extra $6 fee.
Kennewick Fall Leaves Free Pick-Up
In the fall, the City of Kennewick picks up extra bags of leaves for free. The catch is it only happens for 3 months out of the year.
You can put extra bags of leaves next to your garbage cans during the first full weeks of November, December, and January according to the City website.
Wouldn't it be nice if they extended that service to the spring months of March, April, and May?
Pasco Extra Bags of Leaves Policy
The Pasco waste disposal is handled by Basin Disposal, Inc. Out of each of the 3 Tri-Cities, I think they have the easiest rules concerning extra bags of leaves and how to dispose of them. Section 4 on their policy page states the rules for extra waste saying:
"Any extras that you might have need to be place FIRST in the cart. If once the cart is full, place them at least 3 feet away from the cart. All items must be bag, boxed, or bundled to the following dimensions 5′ x 2′ x 2′, and not to exceed 65 pounds."
That clearly states any extra waste will be picked up as long as it is bagged, weighs less than 65 pounds, and is placed 3 feet from your cans so easily grabbed by workers. If you live in Pasco, you can dispose of extra bags of leaves any time of the year as long as you follow those few rules FOR FREE.
Richland Extra Bags of Leaves Policy
Richland is unique in that it has a separate program for yard waste. You can purchase yard waste containers separate from your regular cans that are specifically for compostable waste.
You can place "loose grass, leaves, plant trimmings, garden debris like inedible fruits and vegetables, non-treated wood and branches less than 4" in diameter" according to the City of Richland website.
One Important Thing to Remember in Richland
The other important difference you need to remember if you live in Richland is to not bag your yard waste. Each of the other cities requires you to bag your waste, but not for the "yard waste" containers in Richland. The City of Richland website says:
"DO NOT bag yard waste. Plastic bags do not break down and retrieving plastic bags from the composting process is labor intensive and expensive."
There are a lot of things you can't put into the yard waste containers, mostly anything that is not in the list above. You can get the rest of the details on the official City of Richland website.
LOOK: These Are the 50 biggest retailers in America