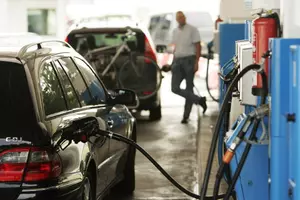 Labor Day Gas Prices? We Check Gas Buddy
Tri-City gas prices expected to inch up (Getty Images)
GasBuddy.com has become a go-to source for people looking to get gas prices on the go, especially when they're getting ready to travel.  Just enter the ZIP code for where you're going, and it gives you pretty accurate updates.
We took a peek at Richland, Pasco and Kennewick gas prices as of 11:30am Thursday morning. Nationally, experts say prices are expected to climb a few cents over the weekend, but should NOT skyrocket-even due to Hurricane Harvey.
But do look for perhaps gradual increasing trends into September. A lot depends upon how much damage the oil industry suffers on the Gulf Coast.
Richland prices, according to Gas Buddy, ranged from $2.67 to $2.69 and up. Pasco was $2.72 and up, while Kennewick started at $2.69, then $2.72 and up. According to some of the cool charts at GasBuddy.com, we can see that Tri-Cities is cheaper than Yakima, but a little higher than Spokane when it comes to trends.
But, we're anywhere from $.30 to $.50 cents higher than the national average most of the time.