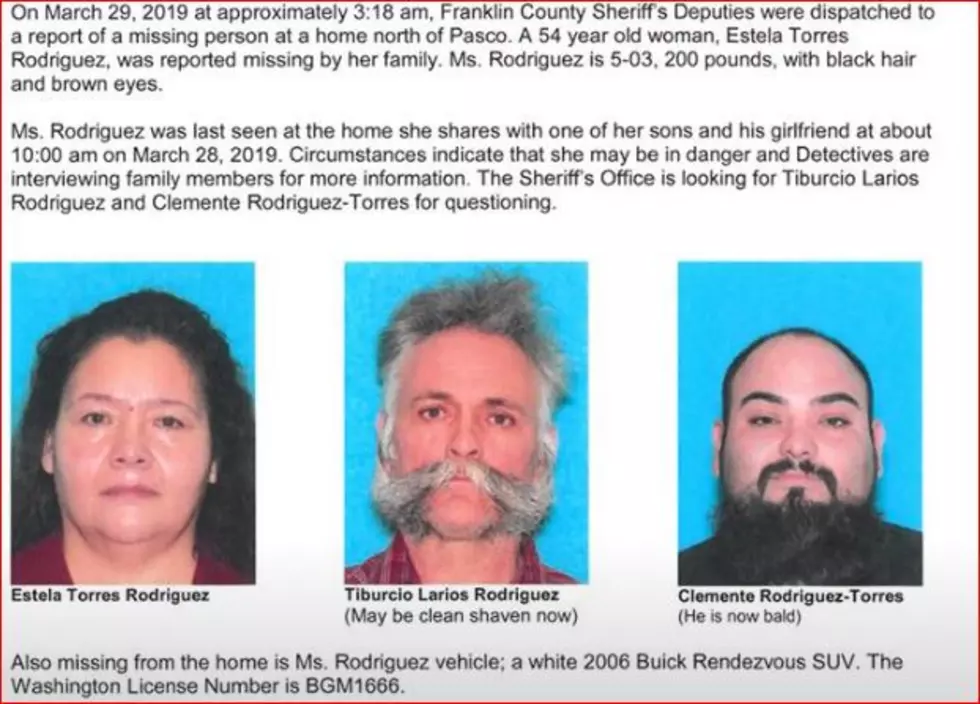 Missing Woman Sought, Believed to be In Danger-UPDATE
Woman (on left) is missing, other two men wanted for questioning (Franklin County Sheriff)
Since March 29, Franklin County Sheriff's have been searching for a woman reported missing, and they're trying to locate two men for questioning.
Around 3:18am, Deputies were called to home north of Pasco, and learned 54-year-old Estela Torres had been reported missing by her family. She was last seen at a home she shares with one of her sons and a his girlfriend around 10pm the night before, March 28th.
Authorities now believe she may be in danger. They are looking for the two men also pictured for questioning. They are Tiburcio Larios Rodriguez (with the moustache) and Clemente Rodriguez-Torres (whom officials now say has shaved his head).
Her white 2006 Buck Rendevous SUV is also being sought, WA Plates BGM1666.
Anone with any information is urged to call (509)-628-0333. All leads can be confidential.
UPDATE---Yaktrinews.com is now reporting officials believe the two male suspects are likely to have killed Torres, and possibly dumped her body somewhere between her home and the Benton-Yakima county lines. Officials believe they took her vehicle, and are trying to avoid detection by using back roads. For the update on this story, click on the button below.