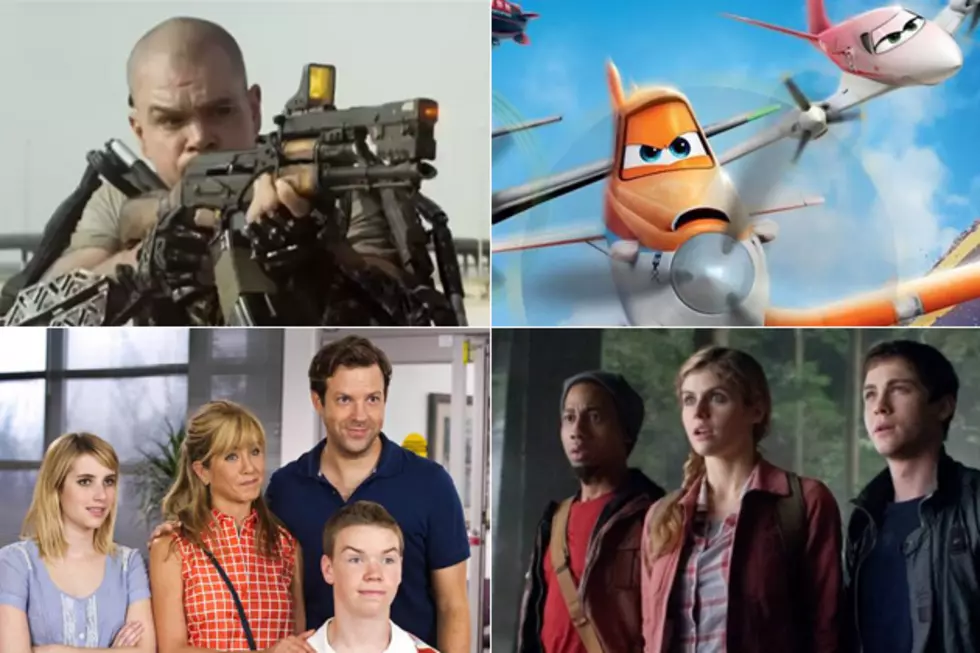 New Movies: 'Elysium,' 'Planes,' 'We're the Millers,' 'Percy Jackson: Sea of Monsters'
TriStar / Buena Vista / Fox / Warner Bros.
This weekend a foursome of features will contend for your moviegoing dollar, as the summer movie season starts to wind down.
'Elysium'
In the year 2154, with humanity strictly divided into poor-and-Earth-bound and rich-and-living-on-the-luxurious-space-station-Elysium, one man tries to sneak into Elysium to save himself and hopefully unify humanity once again.
Directed by Neill Blomkamp
Starring Matt Damon, Jodie Foster, Sharlto Copley, Alice Braga
---
'Planes'
This animated tale tells the story of Dusty, a plane whose fear of heights keeps him from achieving his dream of being an air racer, until he meets a mentor who'll teach him to overcome his phobia.
Starring Dane Cook, Stacy Keach, Teri Hatcher, Julia Louis-Dreyfus
---
'We're the Millers'
In order to transport what he thinks is a small amount of marijuana across the U.S./Mexican border, David hires three people—a stripper and two teens—to pretend to be his wife and kids, thus evading the suspicion of customs agents. Things don't go as planned.
Directed by Rawson Marshall Thurber
Starring Jason Sudeikis, Jennifer Aniston, Emma Roberts, Ed Helms
---
'Percy Jackson: Sea of Monsters'
This sequel to 'Percy Jackson: The Lighting Thief' follows the titular hero's quest for the Golden Fleece, the only thing that can save Camp Half-Blood from destruction by mythical creatures.
Directed by Thor Freudenthal
Starring Logan Lerman, Alexandra Daddario, Brandon T. Jackson, Nathan Fillion