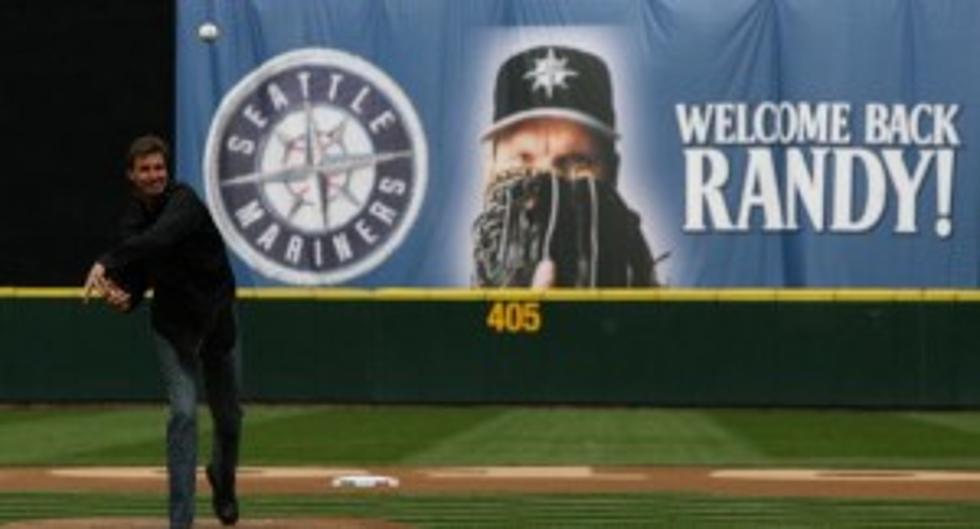 Randy Johnson Likely Won't Enter Hall of Fame as A Mariner
Randy Johnson likely to be a Diamondback in Hall of Fame (Photo by Otto Greule Jr/Getty Images)
Instead, his main "likeness" will portray him as an Arizona Diamondback.  But it's not all under his control.
The Big Unit, as he was known,  spent 10 years in Seattle, longer than his stints in Arizona and with the Yankees.  He also had some early and late stints with Montreal,  San Francisco and Houston.
But the 4 Cy Young Awards and the 2001 World Series title with Arizona means he will likely go in wearing what is now the retro uniform for the Diamondbacks.  He teamed with Curt Schilling to form a powerful one-two punch that led the young franchise to it's only world championship.
Johnson, who went 130-74 in Seattle, says it was his time with the Mariners that made him who he was later.   Prior to coming to the Mariners,  he had all the physical tools but a lack of control made him perhaps the most dangerous pitcher in the game.  Once he developed several pitches and could locate them,  it was all over.   The tallest pitcher to ever play the game (based upon longevity)  Johnson was the best left-hander in 30 years; some say the best ever.   He actually scared many hitters with his power, speed and demeanor on the mound.
Johnson says some or much of the control over which of his jerseys gets front row treatment is largely up to the Hall of Fame Committee, although he does have some input.
He's also known for the famous exploding seagull incident.   During a 2001 spring training game against the Mets in Mesa, Arizona,  Johnson hit a stray seagull that flew between the mound and home plate.   The pitch, later said to be a 90-plus mph fastball,  blew the bird apart to the point where all viewers saw was a puff of feathers flying everywhere. Unfortunately, the bird was killed instantly, but it only added to his lore as a scary, power pitcher.
But regardless of who he goes in as,   it's great to see Johnson get his recognition as one of the best pitchers ever!