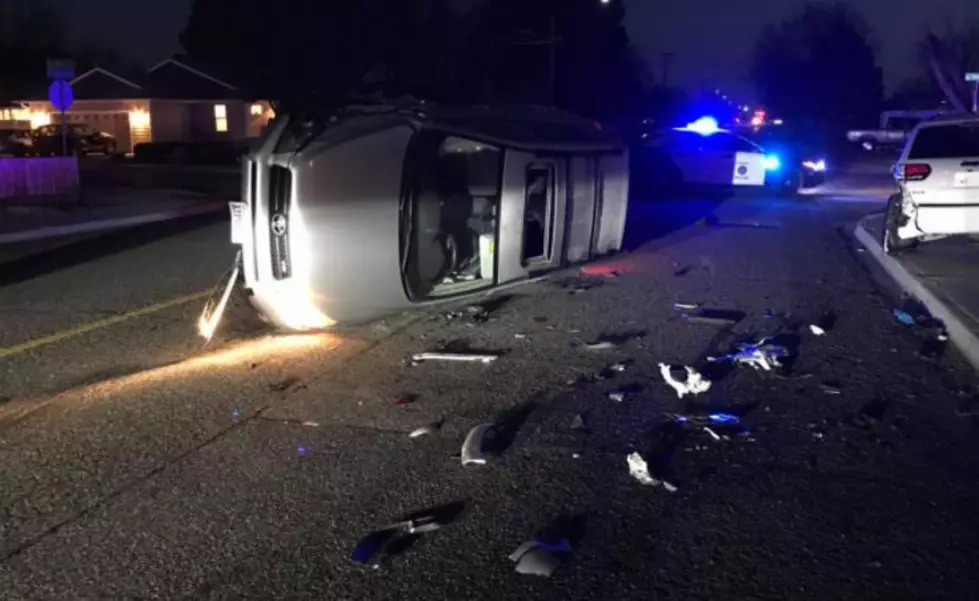 St. Patty's Day Not Lucky for Inattentive Driver
KPD
Kennewick and other law enforcement agencies say one of the worst things you can do if you drop something on the floor of your vehicle is to bend down and try to grab it.
It's SOOO tempting to do so, sometimes drivers will lean over, glance at road, glance down to find object, then look at road again. But it's one of the most dangerous things one can do.
It's because no matter how hard you try to hold the vehicle steady, most of the time when you lean heavily or down, you 'pull' on the wheel even a little.
That's what happened around 6:08AM this morning in Kennewick. Officers were dispatched to this crash near 18th and Garfied. The driver was injured but was able to get out with help from Kennewick Fire Crews.
Police said the driver admitted reaching down and over to the passenger floorboard to retrieve something, took eyes off road, then slammed hard into a parked car. The impact sent their car flying over on it's side.
Fortunately, the driver was not seriously hurt, but did get a citation for negligent driving.  Although this accident did not involve any impairment, Police say St. Patty's Day is one of the most dangerous days to drive. Be careful, and if you are going out to celebrate with drinking, leave the driving to a sober person.
Police say nationally, in 2019, 57 people were killed in accidents on St. Patty's Day that were directly the result of impaired driving.
  Speaking of parked cars, serious parking fails here.  Is it that hard people?!?
Tri-Cities Parking Lot Fails