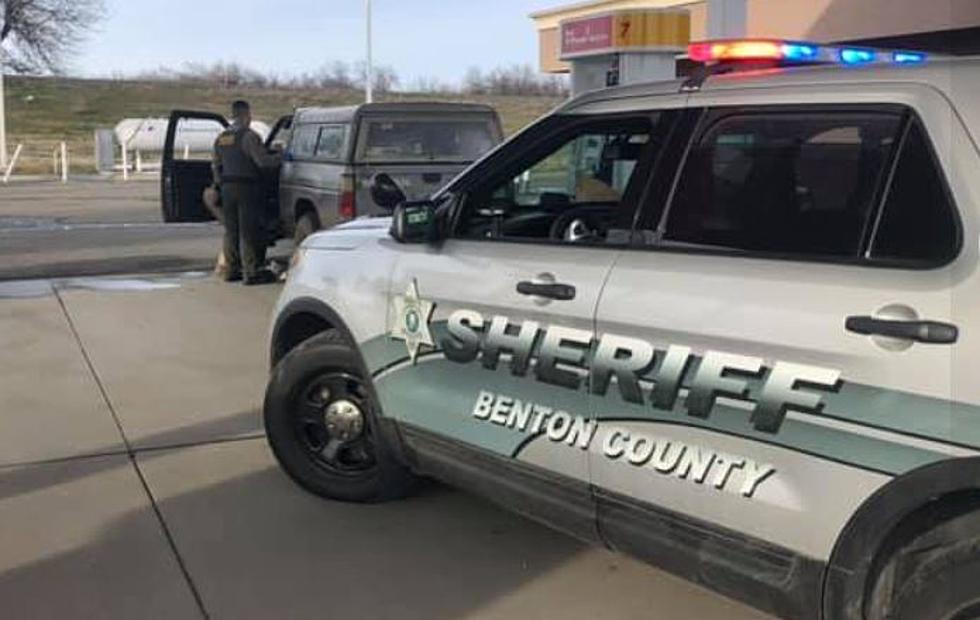 Suspect Located, Arrested After Wild Chase and Shooting
BCSO
Benton County Deputies have made an arrest following a wild shooting chase from this last weekend.
46-year-old Tiodoro Escobar Riojas is now in the Benton County Jail, facing a slew of charges after a chase terminated with the Grandview Police Department taking out his vehicle with their armored 'tank.'
The incident began with a traffic stop Saturday, when it was discovered Riojas has several outstanding warrants, including a no contact order. He had a woman with him in his car. He sped away, leading Deputies and police on a lengthy chase. During the incident shots were allegedly fired by Riojas at officers near Wine Country Road near Prosser, Griffin Road, and finally into Yakima County.
He was finally corralled after the Grandview Police Department 'disabled' his car with a firm impact. However, Riojas was not hurt, nor was his passenger. The vehicle is pictured below.
Before the chase, Riojas was found to have the following outstanding warrants, according to Benton County Deputies:
"Theft of a motor vehicle, attempting to elude a police vehicle, and witness tampering."
Now after the chase, here's additional charges he is looking at :
"...three counts of assault 1st degree (One count for each Deputy and officer he shot at). Riojas was also charged with attempting to elude a police vehicle and felon in possession of a firearm."
Deputies have not said what prompted him to fire at officers, and did not offer additional details if his female passenger was the person with the no contact order against him. The investigation continues. Investigators are in the process of obtaining and going through area surveillance footage, as a number of citizens have reported seeing Riojas speeding by their property with the Deputies chasing close behind.
 This suspect covered a number of roads during chase, here's a few to drive under normal circumstances.
See the Must-Drive Roads in Every State