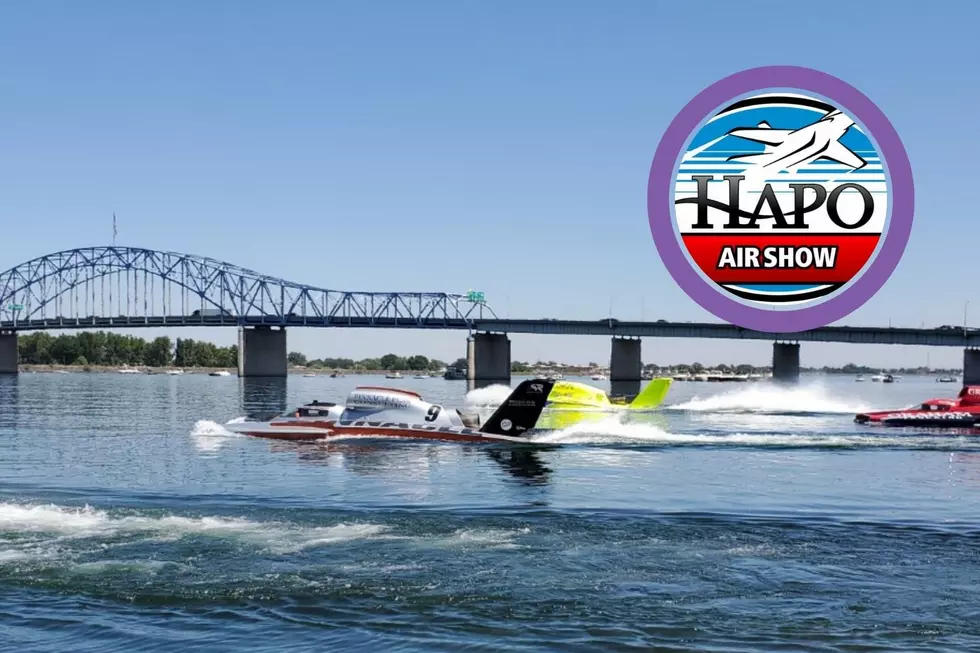 Fabulous Tri-City Water Follies Weekend July 29th-31st, Are You Ready?
Katie Karch-Waterfollies.com
We're just days away from the action of Water Follies Weekend, Are you prepared?
This year's fun is set for July 29th through July 31st on the Columbia River in Kennewick and Pasco.
Tri-City Water Follies: Hydroplane Racing on the Columbia River!
Get set for the Hydros to hit the water! July in Tri-Cities is reserved for Boat Races on the Columbia River! The HAPO Columbia Cup has H1 Unlimited Hydroplane boats racing for the title. Will you be there to witness all the fun?
What are the happenings?
There will be hydroplane testing and racing, autograph sessions, vintage boats, and lots of vendor booths along the banks of the river. It's all about FUN.
When is the air show?
The popular HAPO Over the River Air Show will be at 11 am on both Saturday and Sunday. The show features the United States Air Force A-10 Demonstration Team.
Hydroplane racing is about speed. These boats are going fast, at over 220 miles per hour. According to Wikipedia:
The race is run on a 2.5-mile oval course located in an area on the Columbia River referred to as the McNary Pool.
Love them or hate them, hydroplanes on the Columbia River always bring a crowd to Tri-Cities.
However, some people choose to leave the area this particular weekend.
What is a roostertail?
I've been present for a few boat race weekends. By far, the MOST repeated word or term I heard was "roostertail."  I googled it, of course. It has to do with the fountain a boat creates behind it. The faster a boat is going, the larger the rooster tails are. So, these boats are creating some AWESOME rooster tails. You can learn more about H1 Unlimited Hydroplane Racing, here. The BIG race for the HAPO H1 Unlimited Hydroplane Columbia Cup is at 4:30 pm on Sunday.
For everything about Water Follies, including tickets, hit the button below.
Tri-Cities, Washington Restaurants Serving Delicious Breakfast
You know what they say, breakfast is the most important meal of the day. Whether it's eggs, oatmeal, or cereal, it's always best when you can start your day with a balanced meal. Maybe a fluffy omelet, or pancakes, breakfast is most enjoyed with others. But where can you go to get a great breakfast in Tri-Cities, Washington? Let us show you!
10 Best Chinese Restaurants in Tri-Cities, WA
We've done the research, see if you agree. Have you visited any of these restaurants? What's your favorite go-to dish? My friends love the egg rolls at Shang Hai in Kennewick. Have we left anyone out? Are these truly the BEST Chinese restaurants in our area?
10 Of The Best Places In The Tri-Cities To Launch Your Paddleboard
Looking for a place to paddleboard or kayak? Here are 10 places in the Tri-Cities where you can put