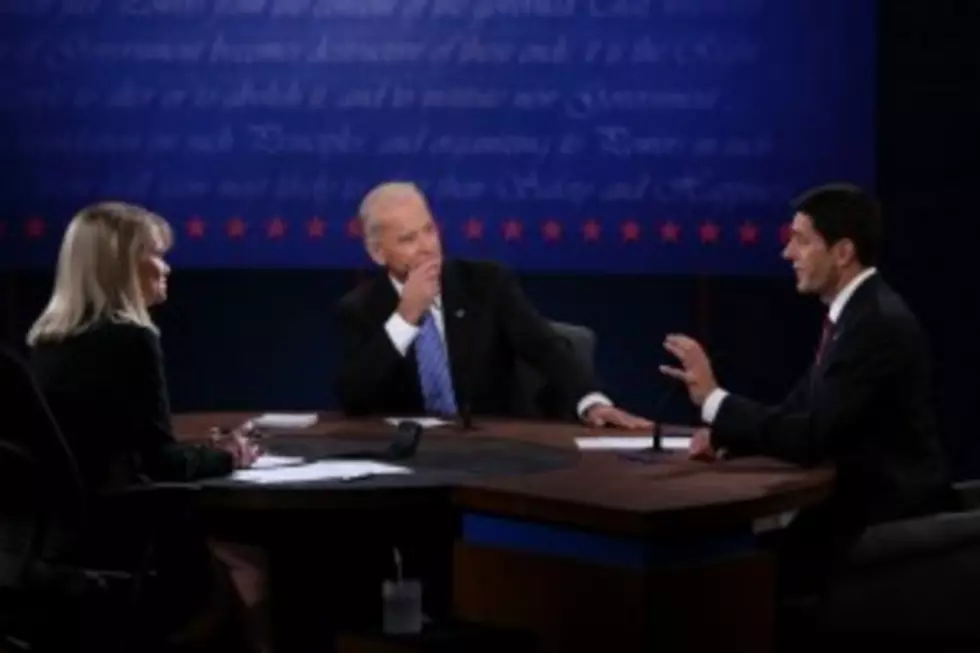 TV Ratings Plummet for VP Debate Compared to 2008
(Photo by Alex Wong/Getty Images)
Perhaps it was the Palin Factor?
According to the overnight Nielsen Television ratings,  viewership for the 2012 Vice Presidential Debate dropped from about 69 million in 2008, to less than 44 million the other night.
GOP Candidate Paul Ryan and Vice-President Joe Biden locked horns in Kentucky, and while it generated tremendous buzz over Biden's disrespectful, (disconcertingly) giddy performance,  it did not generate tremendous viewership.
The 2008 debate was riveting because of Sarah Palin exploding from nowhere and who, in many circles, was seen to have won. Despite intense criticism and outright dislike from the media, Palin matched a more mellow Biden punch for punch.
But since 2008 we have seen the steady disintegration of integrity, honesty, and class from the office of the Vice-President. Regardless of political circles, Biden has been turned into a laughingstock to the point where even the White House has kept him under wraps, and away from situations where "The Gaffe Machine" (as he is often referred to) cannot stick his foot in his mouth. Perhaps this kept people from watching the event, as every time Biden appears in public, he seems to say something that shocks everyone -- from being completely wrong on topics, to embarrassingly insensitive remarks.
According to The Drudge Report, the preliminary -- or 'overnight' -- numbers for the debate were as follows (each representing a household with a TV set):
Fox: 10,019,827 (million households)
CBS: 8,308,821
ABC: 8,287,610
NBC: 7,851,757
MSNBC: 4,378,671
CNN: 4,451,951
It is also interesting to note that many national, and even regional and local, media outlets were using data from the CNN poll to gauge who people thought won the debate -- even though CNN had nearly six million fewer households watching their broadcast!