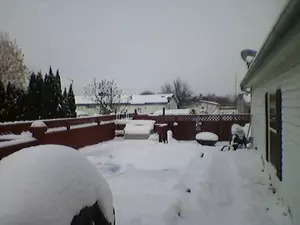 Winter Storm Conditions to Last Through Early Thursday, Snow, Ice, Sleet
Winter storm coming to Mid Columbia (Townsquare Media)
The National Weather Service has issued a winter storm advisory for pretty much all of Northeastern Oregon and Southeastern Washington, through Thursday.
As of 11am Tuesday, the following conditions were headed our way, and expected to linger into Thursday morning:
LOCATIONS...CONNELL...PROSSER...TRI-CITIES.

* ICE ACCUMULATIONS...ONE TENTH TO TWO TENTHS OF AN INCH.

* TIMING...PRECIPITATION WILL INCREASE THIS EVENING...WITH THE
  HEAVIEST AMOUNTS LATE TONIGHT INTO EARLY WEDNESDAY.

* IMPACTS...ICE WILL MAKE ROADWAYS HAZARDOUS. ICE ACCUMULATIONS
  MAY CAUSE DOWNED TREE LIMBS AND POWER LINES.

* WINDS...EAST 10 TO 20 MPH WITH GUSTS UP TO 30 MPH.



We're also expecting periods of snow, freezing rain, and sleet, some areas will see up to 2-4 inches
of snow, so drive carefully.