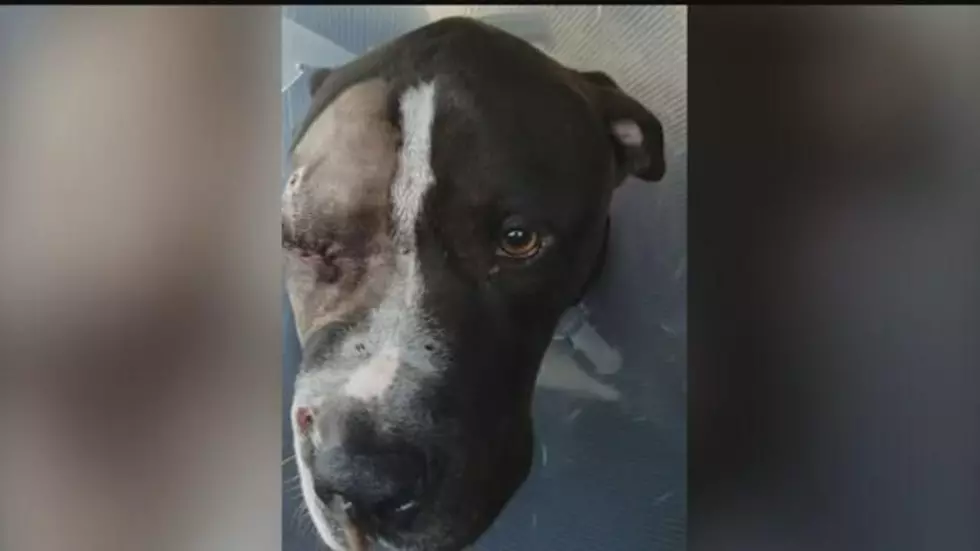 Dog Found Shot Twice Near Pendleton Recovering, Originally from California
Dog recovering well, will be adopted if owner does not come forward. (KNDU-TV)
The dog, named Rez by his caregivers, was originally micro chipped in Bakersfield, CA. Officials are not sure how he got to Oregon, but he's recovering nicely.
A number of Saturdays ago, the black and white Pit Bull was found near Cabbage Hill by Pendleton and LaGrande. He had been shot twice in the head, but was still alive. After a number of surgeries he is recovering well, say A to Z Animal Shelter officials. He'd apparently been found by some hikes. He also had a very swollen mouth, and some chipped teeth.
The dog was traced to Bakersfield, CA.  Authorities say they believe Rez, who's estimated to be three years ago, has been chipped since he was a puppy. They think he was stolen and "put in a situation" in Oregon. They did not elaborate on what that meant.
The dog lost it's right eye, as an infection spread too severely and the eye could not be saved. Once he is fully recovered, they hope to adopt him if his rightful owner does not come forward. Apparently efforts have been made using his chip to contact whoever installed the chip.  To read more about this remarkable dog, click here.