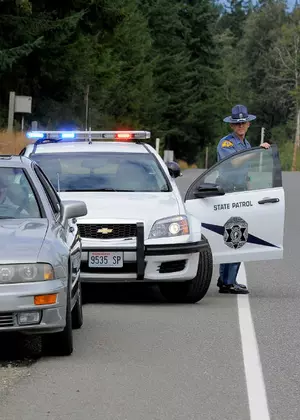 Drunk Driver Double Whammy: RV Rolled Along With SUV It Was Towing
WSP says drugs or alcohol likely cause of crash (Washington State Patrol)
The Washington State Patrol now says alcohol or drugs area believed to have played a role in a double roll-over crash Memorial Day.
53-year-old Darrell Garrett of Bend, OR was driving his RV and towing his Jeep Grand Cherokee behind it near Moses Lake on I-90 when he swerved onto the right hand shoulder.
However, he over corrected in his attempt to get back into the lane, and lost control. He ended up rolling both on their tops, coming to a rest in the median. Garrett sustained serious injuries, according to the Columbia Basin Herald. He was taken to a hospital in Wenatchee.
Flying debris and rocks from his swerving struck a truck driven by 57-year-old Frank Silva of Kennewick, but he wasn't hurt.
The WSP says the investigation continues.