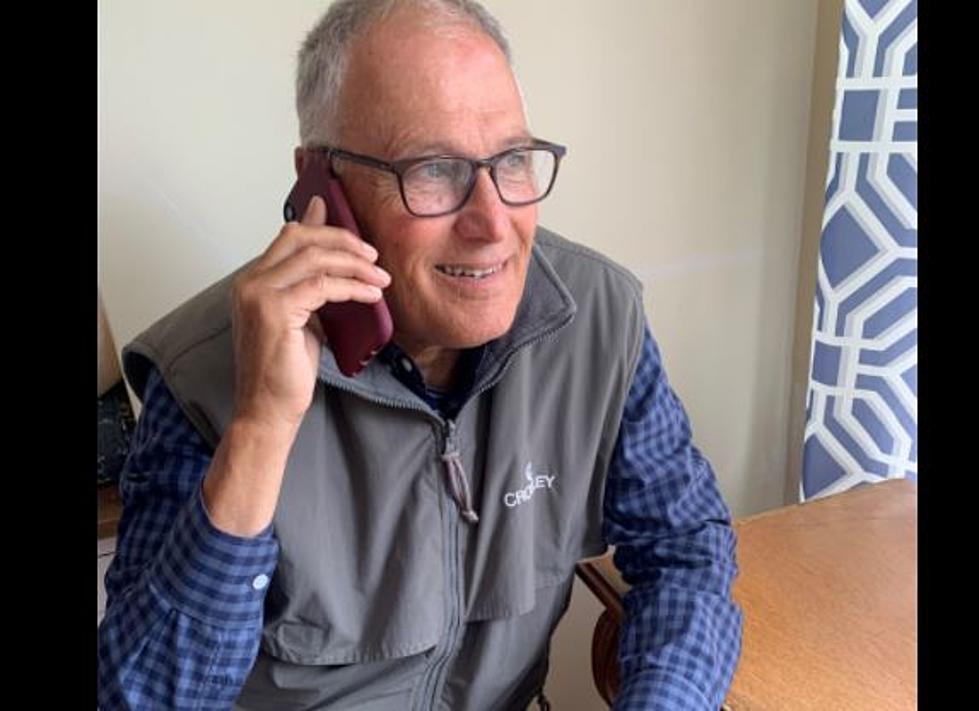 First "Vaccine" Lottery Winner Chosen, Picks Up $250K
Inslee on phone with vaccine lottery winner (Facebook Gov Jay Inslee
Gov. Jay Inslee released on Friday a Facebook post showing him on the phone congratulating "Lance R" (hometown not named) who is the first 'vaccine lottery' winner.
As part of Inslee and the state's "perks" program trying to convince people to get a COVID vaccine, "Lance" was the first in a series of "Shot of a Lifetime" lottery winners.
A million dollars has been set aside by the state, with four winners each getting $250K for sticking the needle in their arm. Other perks, as Inslee called them weeks ago, include sports gear signed by WA state pro teams, and even reportedly alcohol and beer specials.
According to Inslee's Facebook page:
"Congratulations Lance! There are more chances to win, all you need to do is get vaccinated. It doesn't matter when - could be a few months ago, last week or tomorrow."
According to Inslee's page, "Lance R" said:
"I got lucky, not just for the money, but that I didn't get COVID... I just did the right thing and got vaccinated." 
Perhaps the Shot of A Lifetime Lottery will do better than Joints for Jabs. The pot store vaccine clinic promotion has not taken off the way the state thought it would. Those 21-and-over can get a free pre-rolled marijuana cigarette if they get a vaccine shot at a clinic held at any of the state's 500 license pot shops.
So far we have not seen any concrete figures as to how the Shot of a Lifetime has affected vaccination rates. A number of GOP legislators and critics, including 16th District Rep Skyler Rude, have called these perks "bribes."
Nationally syndicated talk show host and financial guru Dave Ramsey is fond of reporting that 50% of lottery winners go bankrupt within 2-3 years after winning...
READ ON: Weird, wild UFO sightings from throughout history