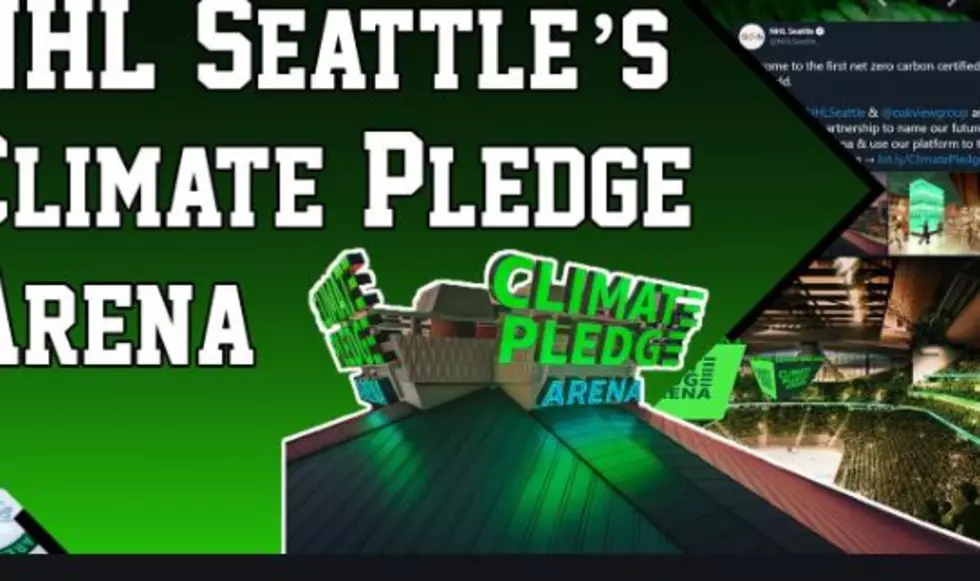 Here's Why Seattle's NHL Arena is Named "Climate Pledge"
Climate Pledge Arena (NHL youtube video still)
When the news was released recently that the new Seattle NHL hockey arena would be called the "Climate Pledge Arena,"  there was snicking and laughing all over the sports world.
Only in the same city that gave you CHOP and other extreme events (well, maybe Portland) would you find an arena named like this.
The reason is Amazon bought the naming rights to the new arena being built, supposed to be finished in early 2021. You may have seen the ads on TV, Jeff Bezos and Amazon have embarked on a lofty environmental goal of having net -0- carbon releases by 2040.
The company has made a purchase of some 100,000 electric vehicles, everything in the arena will be powered by electricity generated from 'green sources,' and the facility hopes to completely eliminate single use plastics by 2024. There's even a plan to use rainwater runoff from the roof to make the ice sheets for the NHL team, hence Seattle's boast they will have the "greenest" ice in the NHL.  But they will still have to purchase water from the city of Seattle for people to drink, because it's illegal there to re-purpose rainwater runoff for consumption.
Because Amazon has all these lofty environmental pledges they've made, and they're dropping a pretty penny for the naming rights, it's as much about what the company wants to do as it is about the actual arena.
So in 2021 if you're in Seattle and you see the giant green sign saying "Climate Pledge Arena," you're actually looking at the mission statement for Amazon. You do have to give them credit, though, for their efforts.
We shall see how it pans out.To read more about this arena, click on the button below.
Enter your number to get our free mobile app