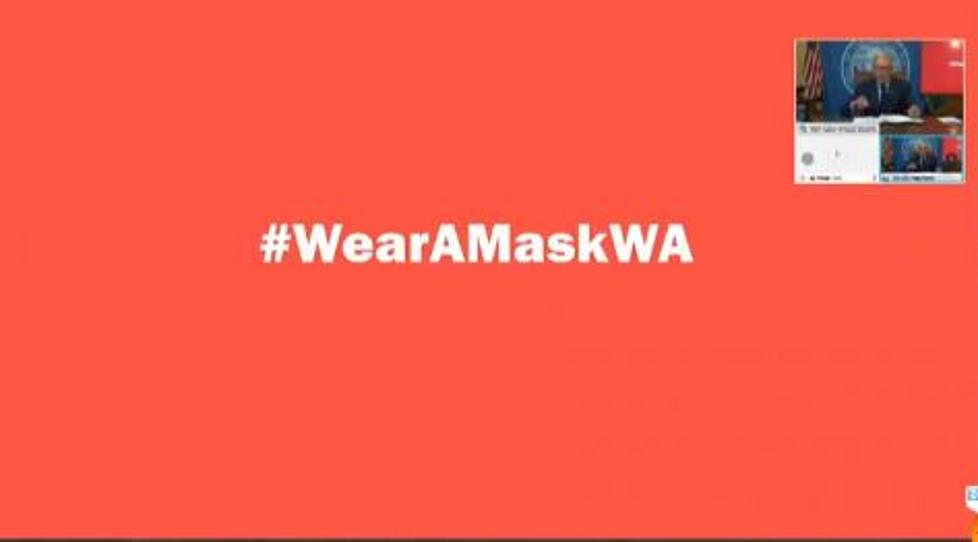 Inslee Press Conference–State Launches "Wear A Mask" Video Site
Wear a Mask Campaign started by Inslee (TVW inslee press conference)
Inslee began his remarks by saying that the investigation into the death of Manuel Ellis will be moved from Pierce County and Snohomish County to the Attorney General's office. He was a man who died recently while under police custody.
Because a Washington State Patrol trooper was also involved in the situation they will likely be removed as well.  Inslee said it's not clear yet the who will conduct the independent investigation, and whether charges will be sent to Ferguson's office for prosecution.
Inslee then updated the COVID response.  He spoke of PPE (Personal Protective Equipment) He said he "knows Washintonians need economic relief and  to do so we need PPE." 
He said that the state has five million of the N-90 masks now in stock with 50 million being requested.  (the state has only 7.56 million residents).
Inslee said the state is trying to establish an in state industry to produce PPE and he met with 14 business owners/leaders to see who could start that up.
He claims the Trump Administration as been "unable and UNWILLING to take the really and available necessary steps to develop a national manufacturing base for these products."  (all caps used to show his emphasis). 
He then made rather unflattering insinuations about Federal assistance, claiming the equipment the Feds sent as often unusable.
He then laid out" demands" on the Federal government, claiming we need to build a stockpile nationally.
Inslee also talked about how the state has started the "Wear a Mask Washington Initiative".  He said the more we wear masks the faster we can open our entire economy. Inslee wants people to submit their videos as to why they wear a mask, and gave the URL.
https://restart.us/wearamaskwa/
Before moving to questions, he also mentioned that June is LGBTQ month.
To watch the video for yourself, click on the button below.
Enter your number to get our free mobile app