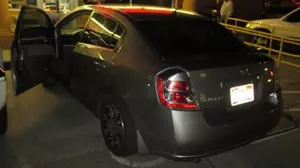 'Methed-Up' Driver Found Slumped Behind Wheel By Police
Driver slumped over behind wheel of this car in Kennewick (Kennewick Police)
Early Sunday morning, Kennewick police responded to a report of a parked vehicle that had been sitting for some time with the engine running. A citizen saw it, thought it was suspicious.
Upon arriving in the 100 Block of South Washington street around 5:20am, police found a man passed out behind the wheel of this car, with a meth pipe in his hand.
He was awakened and his vehicle seized for investigative purposes after police obtained a warrant. Officials say charges are likely pending after further investigation. The identity of the driver was not released.