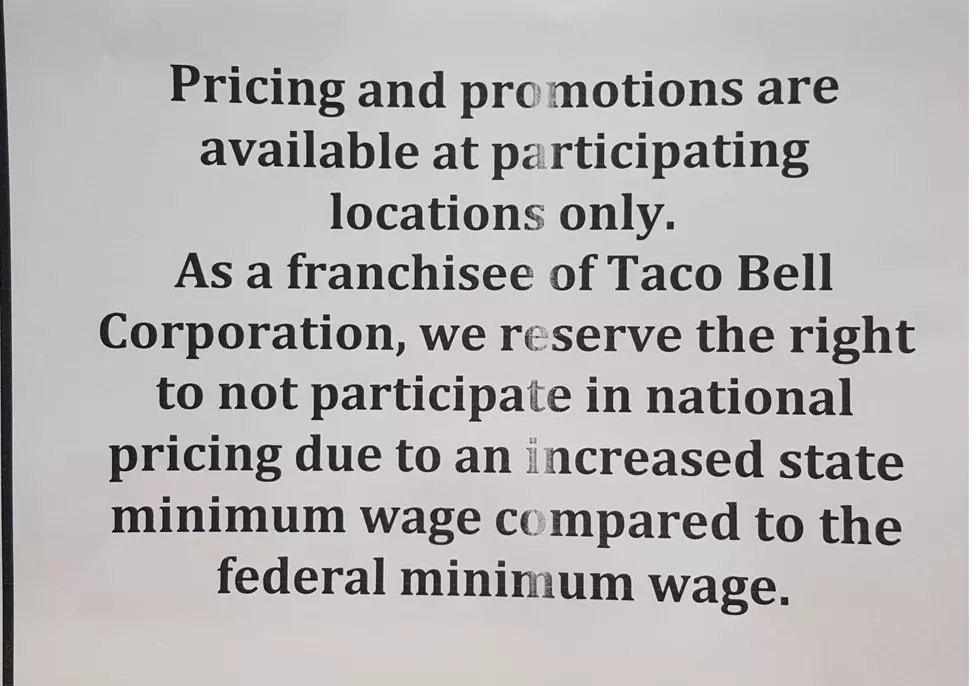 New Minimum Wage Did WHAT To Your Value Menu?
Here's why they're not honoring national ads, and value menu has all but disappeared (Townsquare Media )
So, the next time you feel the need to make a run for the border, or other munchies, cravings or just a quick family meal, you will think "what happened to all the $1 stuff?"
It's no coincidence that since December, the number of items on the $1 menu at your favorite fast-food restaurants has dwindled (even if just a bit), or they've gone away altogether in the Tri-Cities and Washington state.
I stopped by Taco Bell on Highway 395 and Kennewick Avenue this weekend, hoping to take advantage of the Happy Hour from 2-5 p.m. Our family has enjoyed the freeze drinks and picking up some decently filling food for cheap. We hadn't been there since before Christmas.
You've probably seen those new "Belluminati" ads for Taco Bell on TV, suggesting their wide range of $1 menu items are part of a food 'conspiracy.' However, you won't find them at that store in Kennewick.
The ads say prices and participation may vary. Not every fast food outfit honors every single national promotion. But it was the sign on the wall that caught our attention. I asked the worker why they weren't honoring the ad we saw on TV, and they pointed to the sign. Basically, the store has transitioned from a "corporate store" to a "franchise store."  Corporate stores honor any and all national ads, every special that comes down the line. But franchise stores don't have to. In this case, the store transitioned so they could put themselves in a more manageable financial position.
In layman's terms, due to the 50 cents per-hour minimum wage jump, it now results in higher consumer costs. Because the store has to pay significantly higher wages, as well as paid sick leave, they are no longer participating in many of the national specials.
We still got a decent deal, but quick math showed we paid at least $3.50 more for our visit than before, when the $1 menu and Happy Hour specials were still active.
And, their dollar menu has all but disappeared.  So the next time you're in your favorite fast food joint, take note of what's 'vanished' from the value menu. So much for those who claimed higher minimum wage wouldn't have an effect on consumer costs.
NOTE--we've received word from several sources that at least one other fast-food restaurant has raised some breakfast menu items as much as 50 cents, also due to minimum wage hike.