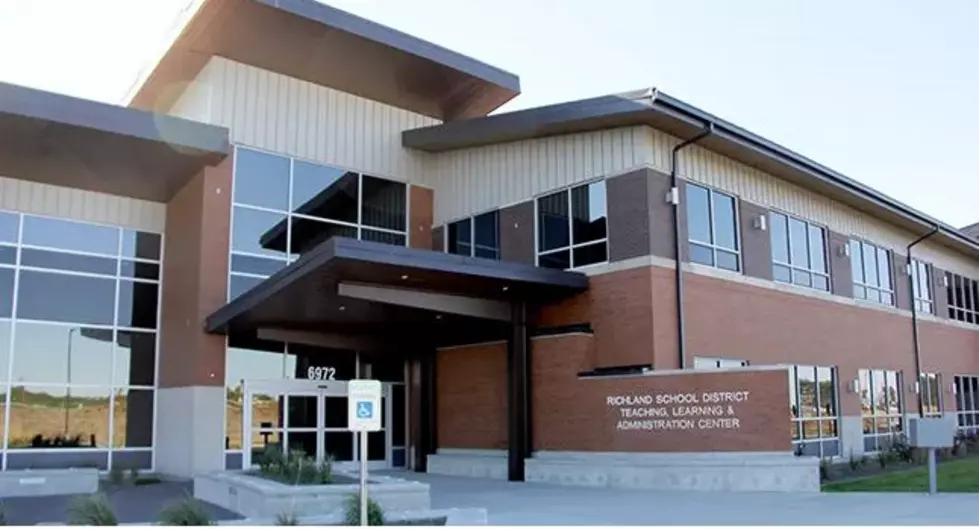 Progressive Education, Controversy Nothing New to Richland Schools (OpEd)
RSD Admin building (RSD)
The recall effort being mounted against 3 Richland School Board members is not that unusual if you consider some of the more 'interesting' events in RSD history.
  RSD has seen more liberal, progressive education than the rest of Tri-Cities
I am a Tri-City native, my parents moved here from Bellevue, WA in August 1966 when I was 3 years old. I went through the RSD and while I did get a solid education, the time was not without controversy.
   Progressive Education SPI elected.
In 1972 my dad worked as a local campaign officer for OSPI Candidate James S. Moore, who was running against Frank Brouillet. Brouillet was a former state legislator. At the time, there was a lot of 'buzz' about what was called "progressive education."  An educator named John Dewey had, since the 1930's, pushed an early form of 'social justice' education instead of traditional math, history, science, language, and other normal studies. Brouillet won the primary and the general against Moore.
In the early  1970's this began to leak into WA state schools, and Brouillet was open-minded to these theories. These theories began to trickle into RSD.
I attended the 'new' Sacajawea Elementary in Richland just off GW Way in 1973 and at the time the RSD was experimenting with the open classroom concept. The school was like a giant circle, with offices, a kitchen, and other logistics in the middle, the classrooms were like slices of pie. There were curtain dividers for each grade but they were seldom used. You could look over 30-40 feet and see the next group of kids.
Some tenants of this progressive education were utilized at Sacajawea.
Needless to say, academic performance dropped and behavioral issues rose sharply. I moved to Jefferson Elementary the next year after my and other parents pulled their kids out of there.
I recall hearing my parents talk about this new trend, and they and others pushed back against it.
 Richland goes PC in re-opening Chief Jo Middle School
I attended what was formerly known as Chief Jo Junior High from 1974-to 77.  From when it opened in 1951 until it closed (due to the recession in the Tri-Cities) in the early 1980's the school's mascot was the Warriors.
When it re-opened a few years later as the economy recovered from the WPPSS Hanford debacle, the colors were changed from blue and gold, and the mascot changed to the Eagles.
Much like Chief Kamiakin, for whom Kamiakin High School in Kennewick was named after, the nickname Warriors was in honor of his legacy.
 Richland is home to a lot of different perspectives
For decades, and my father could attest to this having worked on the N-Reactor and for WPPSS before their bond default, Richland attracted hundreds if not thousands of workers from all over the nation. Much like the purpling effect we're seeing in Texas, Georgia, and other states, some of these workers bring in not-so-conservative societal and political values.  Richland has always been a lot more left-leaning than Pasco or Kennewick. I grew up in that environment.
So, if you have perspective, it is not surprising why the RSD and some of the parents and administrators pursue the agendas they do.  It's actually happened for decades but many have not really noticed it.
This school board recall is just the latest example of the long history of progressive ideas that have bubbled under the surface for decades in Richland.
Beware of These 50 Jobs That Might Vanish in the Next 50 Years