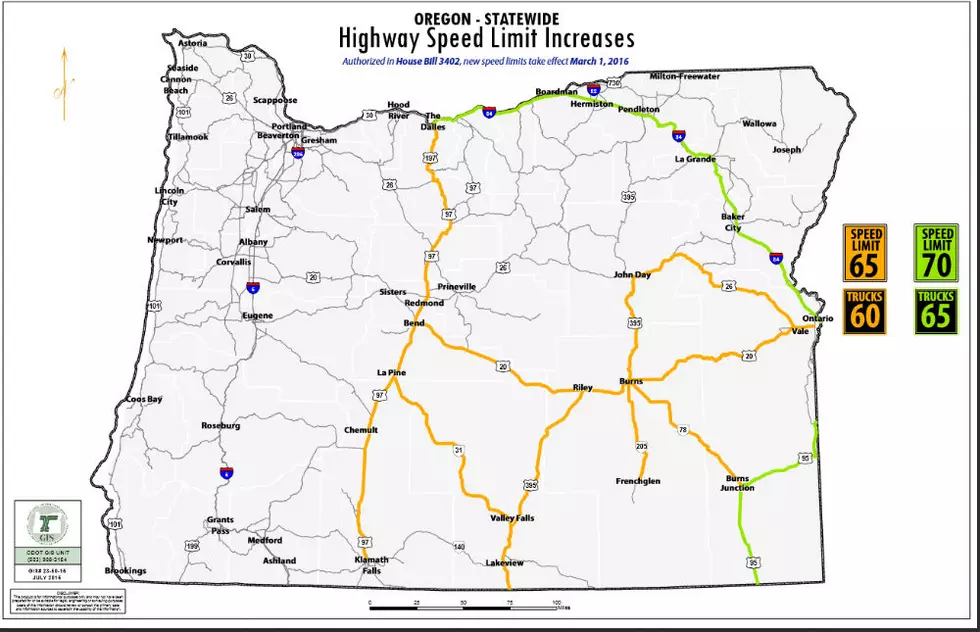 Speed Limits To Rise on Some Eastern, Central Oregon Highways
New Oregon Highway Speeds (Oregon DOT)
Don't get the idea you'll be able to go as fast as Montana, but a number of rural Eastern and Central Oregon state highways are going to see some 5-10 mph increases.
According to Oregon Department of Transportation officials, House Bill 3402 will allow the following roads to have their speeds increased anywhere from 5-10 miles per hour:
From Northwest Cable News:
"Several secondary highways in central and eastern Oregon will also see speed limits increased, including portions of U.S. 20, U.S. 26, U.S. 95, U.S. 97, U.S. 197, U.S. 395, OR 31, OR 78 and OR 205."
The roads were evaluated for traffic loads, safety and other factors and it was decided to allow for faster transportation.
ALSO on Interstate 84, between The Dalles and the Idaho border, the speed will increase from 65 to 70mph. The highways affected are pictured in the DOT map below.