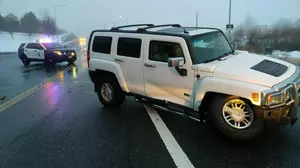 Treacherous Ice Triggers Multiple Accidents Monday Morning
Accident near 4th and Steptoe (Kennewick police)
Kennewick and other law enforcement departments were kept busy with a number of accidents caused by slick roads Monday morning.
In most of the circumstances, police said drivers were traveling too fast for conditions and lost control or could not stop. Bare and wet roads froze overnight, coupled with freezing fog, creating slick roads that cancelled schools in Kennewick, Pasco, Finley, and the Ki-Be area.
The car below collided with another near 4th. and Union, police said one car was stopped at the intersection. The second car behind them could not stop on the ice and slammed into the back of the first car. No one was injured.
The other pictures show a wreck near 4th and Steptoe, where one driver was cited for traveling too fast for conditions after they slid and struck another vehicle.
A reminder to go slow, allow plenty of time, and don't let bare looking roads deceive you, especially if the temp is at or below freezing.