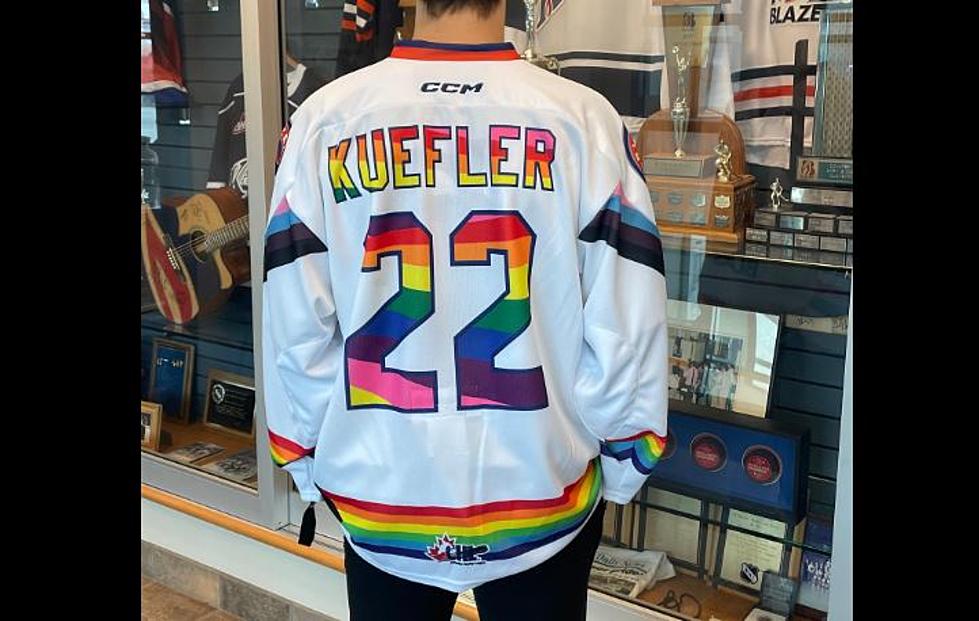 Which WHL Team is Having a Pride Jersey Night and Auction?
Kamloops Pride jersey (Kamloops Blazers Facebook)
Over the years recently, there have been some major league pro sports franchises that have held pride nights or similar events targeting LTGBTQ fans. Some of the events have succeeded, others not so much.
  WHL team raising eyebrows with a pride night
You may recall 9 years ago when the WNBA stirred the pot by holding a number of events specifically targeting same-sex partners, especially women.  As reported by the New York Post and other outlets, the WNBA held a number of 'bring your partner' events offering free or discounted admission and other perks.
The events were met with mixed results. Some critics say the league was pushing an agenda that didn't resonate with their attempts to attract more women, especially younger fans, as well as mainstream viewers. Others viewed them as positive inclusive events.
One former standout player, Candace Wiggins, told the British newspaper The Guardian, she was bullied during her 8-year career because she was straight.
 Now a WHL Team is having a pride night
The Kamloops Blazers, who are in the Western Hockey League's British Columbia (or BC) Division, are having a pride night on Wednesday, March 22nd.  The Blazers are donating the proceeds from the jersey auction to a non-profit Safe Spaces program. These theme jersey programs are done by a lot of teams in the WHL.
The Tri-City Americans are well-known for their Pink Ice Breast Cancer, Military, NASCAR,. Nuclear and other theme jerseys. The proceeds are donated to various charities or the players' education fund.
Some NHL teams dabbled with idea, but dropped it after significant opposition
But this is the first time we have been aware of a WHL team staging a pride night.
CHECK IT OUT: 100 sports records and the stories behind them