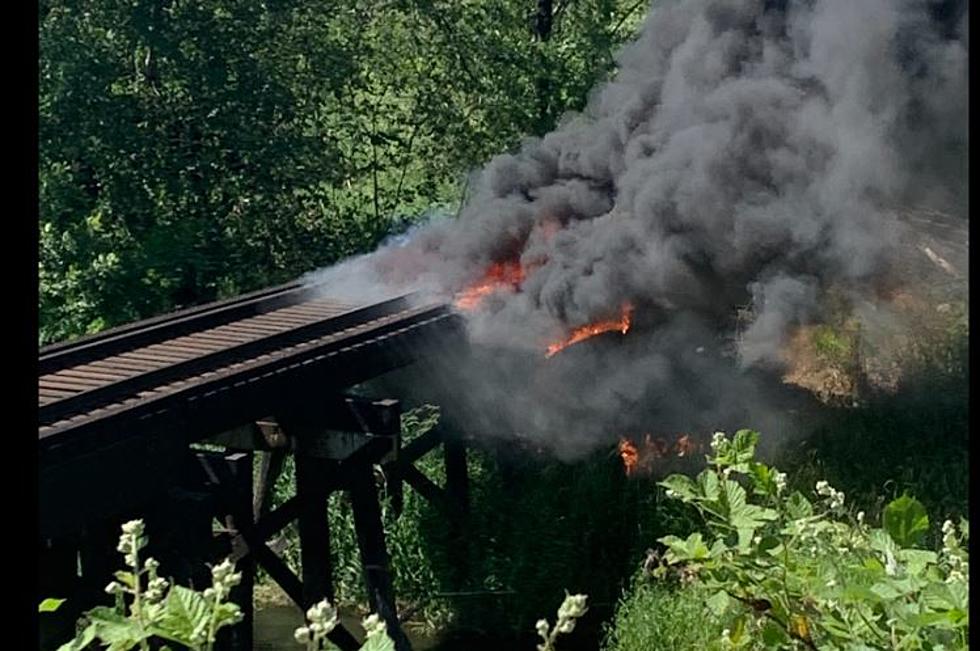 Arson Now Suspected in Western WA Railroad Bridge Fire
Railroad trestle arson fire (Grays Harbor sheriff's Department)
A widely-used railroad trestle in Grays Harbor County in Western WA will be out of commission until repairs can be made, following a fire.
Authorities now say the cause of the fire is believed to be arson
The GHSO (Grays Harbor Sheriff's Office) responded to a report of a railroad trestle on fire Saturday afternoon around 3 PM.  The wooded structure is located alongside SR-12 near the small unincorporated area of Malone, WA, about 20 miles east of Aberdeen.
The line is used by the Puget Sound and Pacific Railroad as well as other trains, when deputies and fire crews arrived, a 5-foot by 5-foot section of the structure was fully engulfed in flames.
It was quickly extinguished, but not before damage was done to the timbers. Over the last 3-4 years, there have been at least 5 incidents where trains (especially oil or chemical units) have been derailed by vandalism.  Several of the suspects who were arrested in connection with these incidents were allegedly part of environmental 'warrior' movements.
No specific details from authorities, but they say the fire is definitely arson. The investigation continues.
KEEP READING: Scroll to see what the big headlines were the year you were born
Here's a
look at the headlines
that captured the moment, spread the word, and helped shape public opinion over the last 100 years.