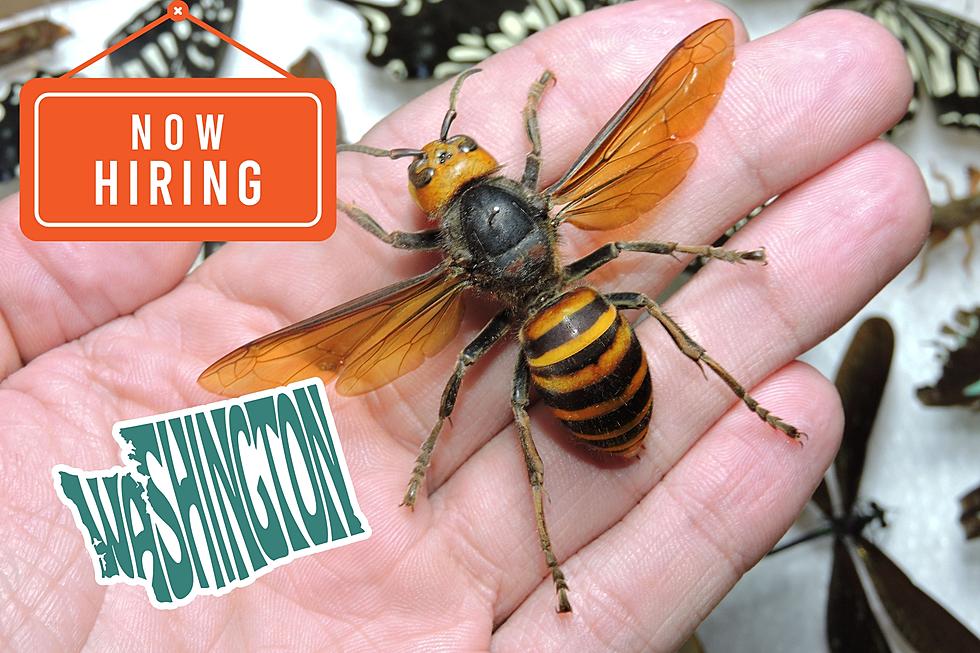 Need a Job? Washington Wants You to Wipe Out Pesky Murder Hornets
Canva
If you're up for an interesting and exciting job opportunity, we have one for you!
This job is definitely challenging. Not quite sure how rewarding it'll be. You'll have to apply, do the job, and let US know. The Washington State Department of Agriculture is looking for a Giant Hornet and Wood Boring Insect Trapper.
What does this job pay?
Let's just say, "You won't starve." It pays quite a bit!  Anywhere from $2,956.26 to $3,915.00 monthly, however, it is seasonal, from April through December. According to the job listing:
The Giant Hornet & Wood Boring Insect Trapper - Lead conducts, coordinates, and organizes multiple aspects of invasive species survey projects. This position will be responsible for leading up to five insect trappers as the team places stinging and non-stinging insect traps, handle live stinging insects, and the potential removal of stinging insect nests. This position serves as a trapper for multiple invasive specie surveys and will be responsible for conducting a range of surveys following unique protocols for varying target species.
What we know about the murder hornet:
The Asian giant hornet is the world's largest. A series of stings can be fatal. The sting feels like being stabbed by a red hot needle. The stung body part swells severely and will ache for a few days.
Do you think you have what it takes to do the job of a 'giant hornet trapper'?
If you believe you're qualified, you can read more about the position and apply here.
Relaxation & Rejuvenation Await You at Remote Paradise in Naches, WA
It's just what the doctor ordered...and it's in Naches, WA. The 2-bedroom-1 bathroom rental can accommodate 6 guests. The property features a private deck and hot tub. The living room has a queen sleeper sofa. There's also a washer and dryer for your convenience.
25 richest people in America and how they did it
LOOK: Here are 25 ways you could start saving money today
These money-saving tips—from finding discounts to simple changes to your daily habits—can come in handy whether you have a specific savings goal, want to stash away cash for retirement, or just want to pinch pennies. It's never too late to be more financially savvy. Read on to learn more about how you can start saving now. [
From:
25 ways you could be saving money today
]
LOOK: These Are the 50 biggest retailers in America