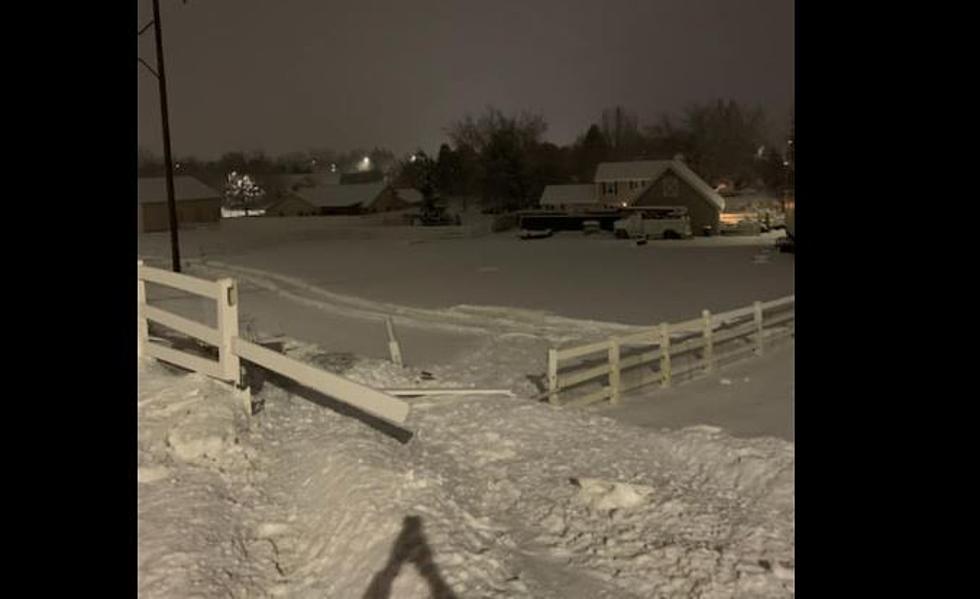 Mid-Columbia Crashes Included This Fence Hit-And-Run
Skid and run driver takes out fence (WRPD)
Among the more 'notable' crashes we saw the last couple of days due to weather were these.
ERRANT DRIVER PLOWS THROUGH WEST RICHLAND FENCE
Early Wednesday morning, estimated to be between 1 and 2 AM a car failed to negotiate the southbound S-curves on Bombing Range Road and took out a good chunk of this fence.  This picture was taken after the vehicle was removed, but you can see the long snow marks from the tires. They appeared to be really moving.
However, the driver fled, and no one was there when West Richland Police got there. They're still seeking the driver.
FRANKLIN COUNTY ONION RINGS SPOILED IN TIPOVER
Fortunately, the injuries were only minor between this onion truck and other vehicles on Glade Road near Dogwood Road. A lot of onions bit the dust on this one. Franklin County Deputies attributed the crash to icy road conditions.
 BENTON DEPUTIES HELP WITH THIS CRASH 
Not a lot of details were released about this one, appears to be a delivery truck that slid off an icy south Benton County road and crashed in a field. Even with warmer weather coming, slow down on the slush, snow, and ice.
See the Must-Drive Roads in Every State