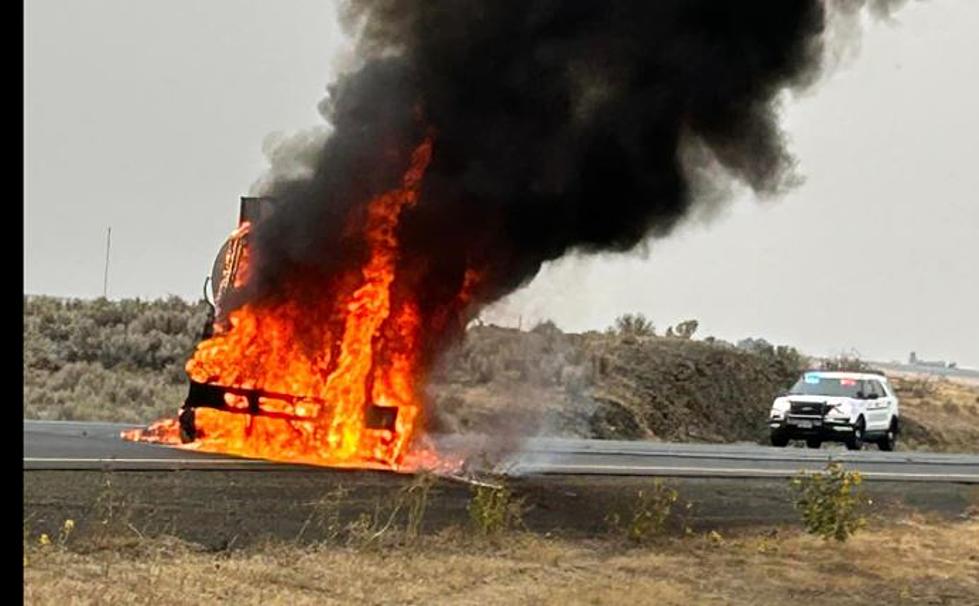 Multiple Charges Facing West Richland Man Who Stole Asphalt Truck
DOT aslphalt truck on fire near Ritzville (ACSO)
The man who led Adams County Deputies and WSP Troopers on a wild 35-mile chase in a stolen WA DOT asphalt truck is facing a large list of felonies.
Suspect driver arrested after truck catches fire on I-90
The Adams County Sheriff's office has released more information about the wild incidents ranging from Washtucna to Ritzville on Tuesday.
31-year-old Lance Rogers is in the Adams County Jail in Ritzville following his arrest. Early Tuesday, the ACSO got word of an attempted drive-by shooting. As they were responding they learned Rogers had stolen a Washington State Department of Transportation asphalt truck, and he proceeded to lead them and WSP Troopers on a chase northbound on SR 261, which runs from Washtucna to Ritzville.
When Rogers entered I-90 east towards Spokane, the truck caught fire about two miles outside of Ritzville. He was arrested with help from the ACSO K-9 Nado.
Now the ACSO has released the list of charges he is facing. He is apparently wanted in connection with multiple criminal incidents.
According to the ACSO Rogers is charged with:
",,,robbery 1st degree, attempted robbery 1st degree (x3), assault 2nd (x5), theft of motor vehicle, aiming or discharging firearms, and malicious mischief 3rd degree.
Investigators have multiple victims and witnesses to the incident. There are several different crime scenes that are being investigated."
   They did not specify the locations where these incidents occurred. they said the investigation is still ongoing.
LOOK: Most dangerous states to drive in