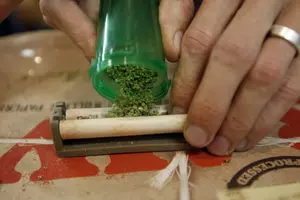 Pot Use Linked to High Blood Pressure, Says New Study
New study links pot use to high blood pressure (Getty Images)
Officials caution it's an exploratory study, and more research will be needed. But initial tests and information shows a substantial link.
According to the New York Times, the study was published in the European Journal of Preventive Cardiology. One of the lead authors, Barbara A. Yankey from Georgia State University, said "there is a possibility that marijuana use is related to deaths with hypertension as an underlying cause."
After controlling, or accounting for, a number of various medical issues (taking them into account) researchers found people who were long time pot users were three times more likely to have high blood pressure than those who did not. This is the first such large scale study that links long-term pot use to high blood pressure.
According to data from the 332 deaths among the 1,213 people who were participating in the study, the more and longer people used pot, the higher their risk. The average duration for the marijuana users in the study was 12 years of smoking.
Officials said pot users, like others, should have regular medical checkups "to assess their cardiovascular health."