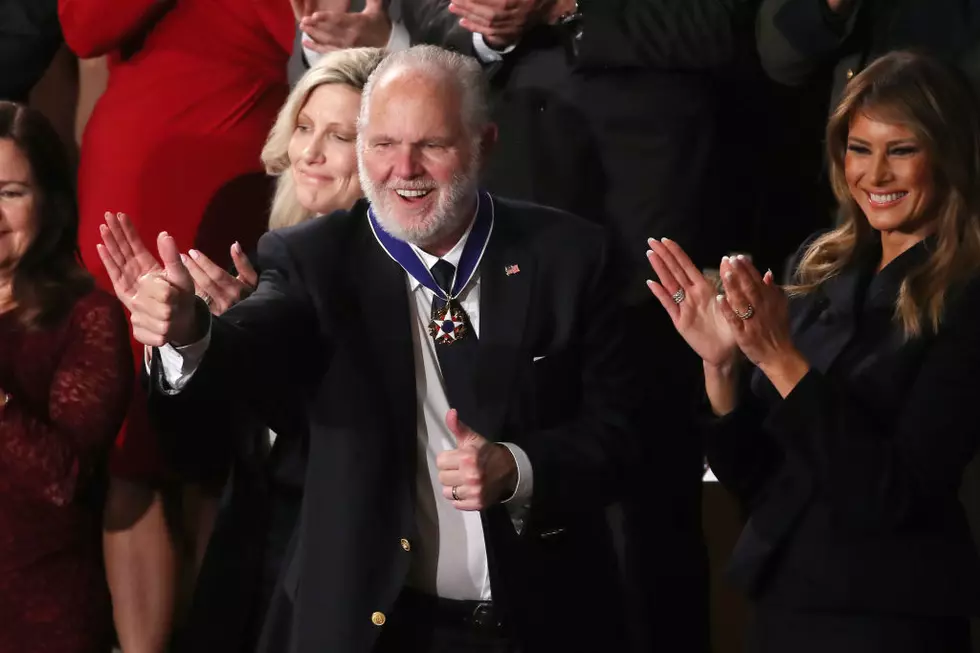 Rush Loses Battle with Lung Cancer, Dead at 70
Getty Images
What began the Talk Radio Movement over 3 decades ago suffered a huge blow Wednesday, as Rush Limbaugh died at age 70.
Beginning with his humble roots in Missouri then Sacramento, Rush created the Conservative Talk Radio Movement.  Since his diagnosis with cancer, we've known this was coming, especially with his more frequent absences. But when it happens, you're never really 'ready.'  From the EIB Network, this statement issued Wednesday:
It is with great sadness to inform you that Rush Limbaugh passed away today, February 17 after a long and brave battle with lung cancer.  In this time of sorrow, Rush's voice will continue to be heard, providing comfort and continued insight to his legions of loyal fans.   
All of Rush's audio has been extensively archived and cataloged by subject, topic and opinion.  Given how timeless and insightful Rush's commentary is his producers will be able to pull segments that are relevant for each day's news cycle and allow us to feature the best of Rush for the full three hours of the program.
The familiar voices of the programs' guest hosts will be used in the show when needed to guide Rush's audio from one topic to another, but Rush will be the predominant voice heard for the three-hour Monday-Friday show, the AM Daily Update and The Week in Review three-hour show.
We will mourn together in a respectful way and celebrate the incredible life of Rush with his millions of loyal listeners."
We are headed into uncharted waters now, and will update our listeners as much as possible about the future of the program going forward. God Speed, Rush.