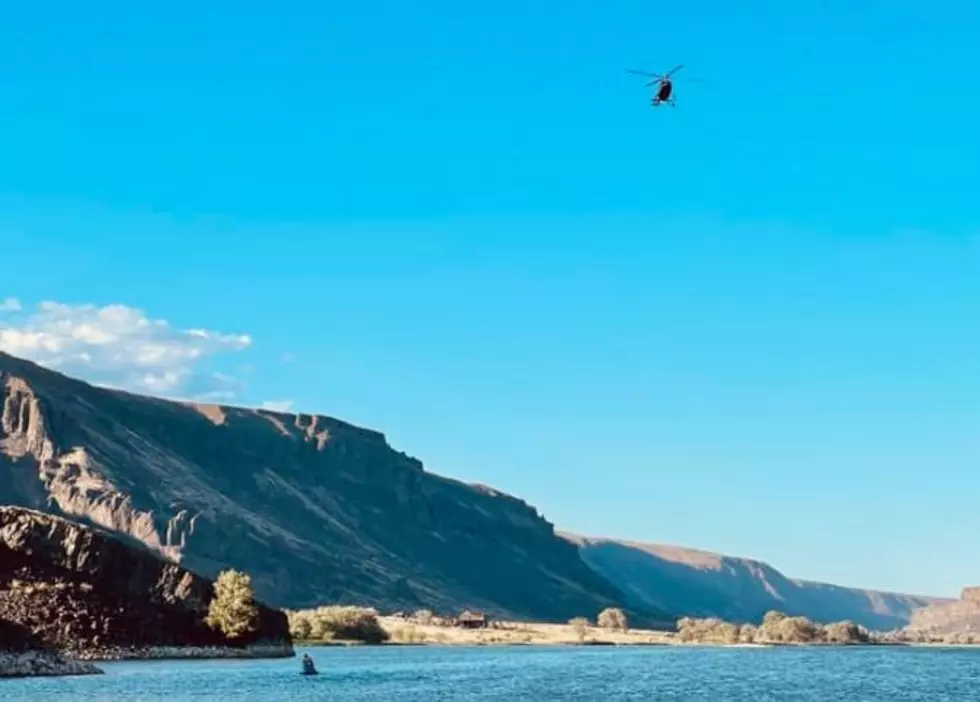 Search Continues For Believed Drowning Victim North of Soap Lake
Search continues (GCSO)
According to information from the Grant County Sheriff's Office, this will likely continue to be a recovery mission.
  Search continues after man goes "down" under water
Friday evening, GCSO Deputies report a man in his 60s was recreating with his family in Alkali Lake, which is about ten miles north of Soap Lake when he went under the water and did not resurface.
A Life Flight helicopter and GCSO jet skis were quickly brought in to assist with the search, but he was not found. According to the Sheriff's Department, heavy vegetation growth under the surface is making visual searches a lot more difficult.
In this photo from GCSO, you can see one of the helicopters in the air as well as searcher on jet ski in lower left.
From the GCSO:
"Saturday 7/16/22: Grant County sheriff's deputies will return Sunday morning to the waters of Alkali Lake north of Soap Lake to continue the search for a man who is suspected to have drowned this afternoon while swimming."
Unfortunately, the search on Sunday was not more fruitful, either:
"Sunday 7/17/22, p.m. update: Grant County deputies and Columbia Basin Dive Rescue spent today searching but the man's body could not be found. Underwater visibility is obscured by heavy vegetation. We're saddened for his family because we could not recover the man's remains today."
The man's age and ID have not yet been released, the search will presumably continue today, Monday, July 18th.
KEEP READING: Scroll to see what the big headlines were the year you were born