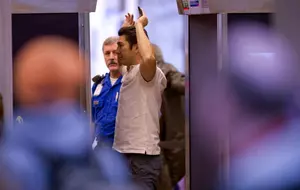 Seattle Airport TSA Official Busted for Videotaping Under Women's Skirts
TSA agent suspended for upskirt videos of women in Sea-Tac airport (Getty Images)
Apparently he thought this was part of security screenings?
Seattle media outlets are reporting a 29-year-old TSA Lead official has been suspended, and is facing criminal charges after being accused of using his cellphone to record up underneath women's skirts during security clearances.
During one of his breaks, the agent reportedly took the escalator down to the baggage claim area, and got in line behind a women. He'd been under surveillance after officials received reports he was allegedly videotaping the women.
The official saw the man place his phone underneath the woman's mid-length dress, then saw the phone light up as he was videotaping.
He was arrested for voyeurism, and taken to the Regional Justice Center in Kent. The TSA suspended him without pay, pending the outcome of his criminal case. The TSA released the following statement about the incident:
"TSA does not tolerate illegal, unethical or immoral conduct. When such conduct is alleged, TSA investigates it thoroughly. When appropriate, TSA requests that it be investigated by a law enforcement authority. When an investigation finds that misconduct has occurred, the appropriate action is taken."
Yet another example of the less than stellar performance of the agents who are supposed to provide security and make us feel safe at airports and other travel outlets. Hmmm....