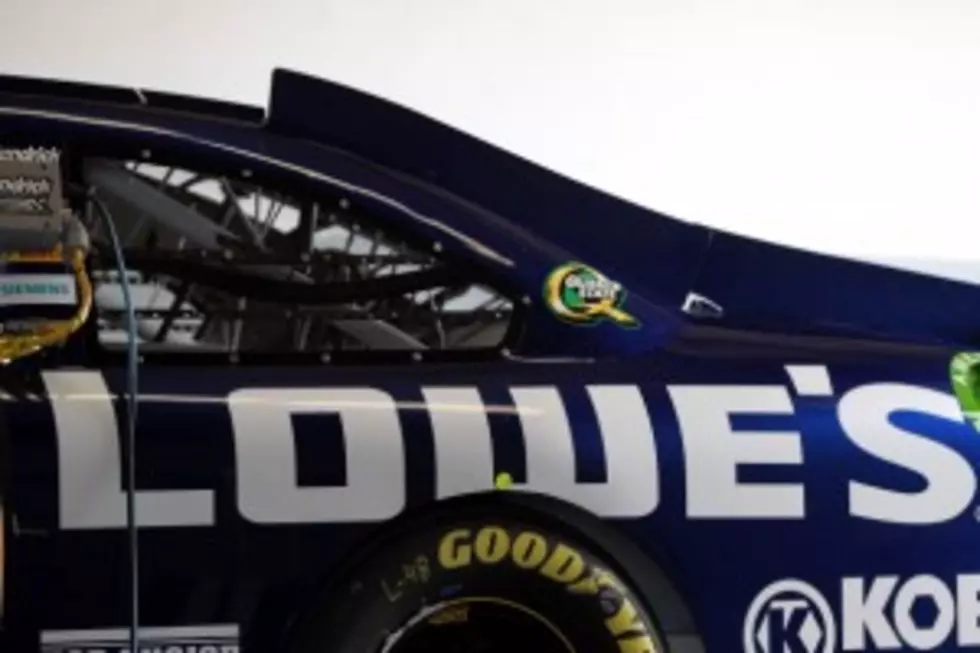 Should NASCAR Suspend Cheaters Like Other Pro Sports? (POLL)
With the Bud Shootout kicking off SpeedWeeks at Daytona, and the 500 next Sunday, the subject of cheating has already reared it's ugly head.
Former NASCAR champ Jimmy Johnson, driver of the Lowe's #48 Chevrolet,  is probably going to lose his crew chief Chad Knauss post Daytona for a few races after Johnson's car was found to have flagrant, blatantly illegal parts.  
   The cars go thru multiple inspections where NASCAR officials use templates, or master patterns, to make sure every square inch of the car is within the rules.  Johnson's car had illegally modified C-posts.  On your car, it's the narrow part that joins the body to the roof, the "post" between the back window and side windows.   It is one of the four places the roof is attached to the body.
   Today's NASCAR stock cars are so highly engineered even the slightly variation can result in increased speed due to aerodynamics.  Johnson's car was so beyond the rules that NASCAR inspectors noticed it in line even before his inspection began.  The parts were confiscated, and the Hendrick Motorsports team will be given a chance to fix it.  Assuming they meet tech, the car will be allowed to qualify for the 500 next week.    Here's the rub:  unlike other professional sports, NASCAR will not assess the situation and hand down any fines or punishment until after Daytona is over!  Knauss will probably be looking at a suspension and Hendrick Motorsports a six figure fine; but to the big teams (Hendrick, Rousch, Childress, Joe Gibbs) that's a drop in the bucket.
 Most cheating in the stick and ball sports (NFL, MLB etc) is from performance enhancing drugs. Equipment violations are the big thing in NASCAR obviously.  But in other pro sports, players who cheat are usually suspended for at least a game or more.  Repeated violations of, for example, performance enhancing drug rules, results in BIG suspensions.  Manny Ramierez retired from the MLB Tampa Bay Rays last year rather than serve a 100 game suspension for PED's.  Players have even been kicked out of leagues for illegal drug use-coke, heroin etc.
  Why doesn't NASCAR suspend the driver for cheating?  For 'deliberate' violations-cheating-NASCAR has suspended crew chiefs, fined the team, and rarely, takes away points.  But suspending or parking the driver will get their attention.  It would cause the team to fall behind and serve as a real deterrent.   Despite Johnson's five NASCAR titles, Knauss is the most heavily penalized crew chief in the last ten years, getting kicked out of Speedweeks 5 years ago for violations;  a few years ago at Sears Point he cut the wheel well fenders two inches for an aerodynamic edge and was suspended.  The team was docked 100 points, but Johnson was the points leader by 180 at that time; it really didn't hurt him.   Knauss was also dinged for another violation and suspended for 3 weeks two years ago.  In the NFL, repeated violations of drug policy, for example, can result in players being kicked out for an entire season!
  Every year, many teams make minor mistakes that NASCAR can tell are unintentional; the team gets a small fine, it's fixed, they move on.  But for flagrant cheating, it won't end until the driver and car are pulled out of a few races.  Missing a race or two destroys your chance at winning a title, and would solve the problem.  By comparison, the only other major team crew chief to recently receive a multi-race suspension was Todd Berrier, Kevin  Harvick's lead man, who tried to tinker with the size of the #29 car's fuel cell a few years ago.  Hendrick Motorsports says they push the rules; we call it cheating and it will continue because the penalties are not stiff enough to deter them.   The perception of the #48 team with many fans, and inside the NASCAR garages, is that they are so big and powerful that they are 'above' the rules, and can afford any penalties taken for deliberately trying to skirt the rules.
  Take our poll:  Should NASCAR suspend a driver for a race (or races) for obvious cheating?