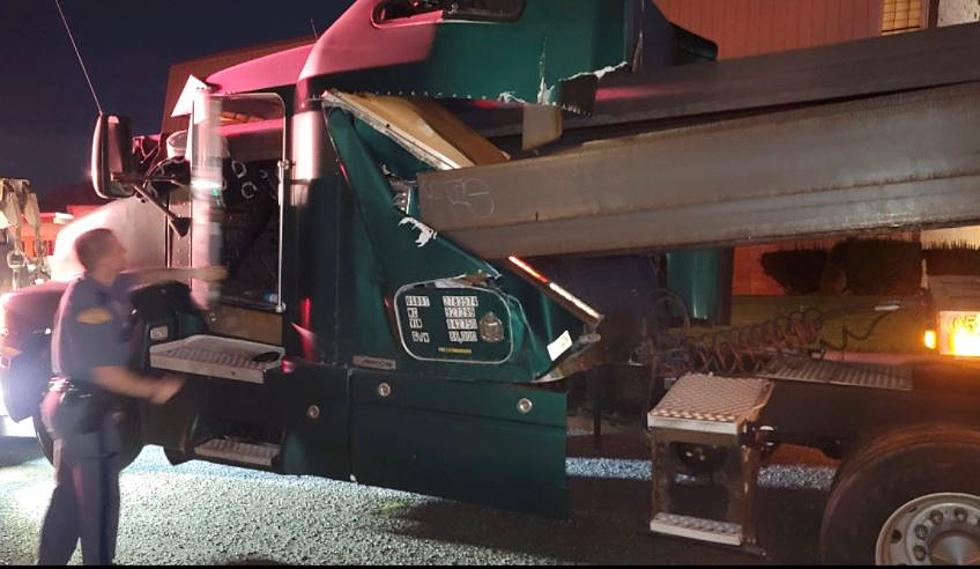 Truck Driver Dodges Death, Steel Beams Miss Him By Inches in Crash
Steel beams go through cab in semi crash (WSP Trooper Thorson Twitter)
WSP troopers did not say what led to the crash, but that a semi-truck driver is lucky to be alive.
Wednesday evening, at the intersection of Yelm and Highway 395, the truck driver apparently braked hard to avoid another incident.
Judging from photos posted on Twitter by Trooper Chris Thorson of the WSP, there didn't appear to be damage to the semi. But it's what happened behind the driver that has many shaking their heads.
 WHAT WAS SHOCKING ABOUT THIS CRASH?
The driver, in slamming on the brakes, apparently caused his load of huge steel beams to shift, and several of them plowed through the back of his driver's cab, literally missing his headrest by inches.
No word if any citations were issued, no mention made by Trooper Thorson.  Thorson, who is the Public Information Officer for the WSP for all of Southeastern WA, said the driver was lucky to be unhurt. Officials also did not say if the driver, whose name was not released, was headed south or northbound.
No information was released as to what led up to the driver having to slam on his brakes, or if any other vehicles were involved. The intersection was tied up for several hours.
Speaking of busy highways in the Tri-Cities, here's a few others.
See the Must-Drive Roads in Every State