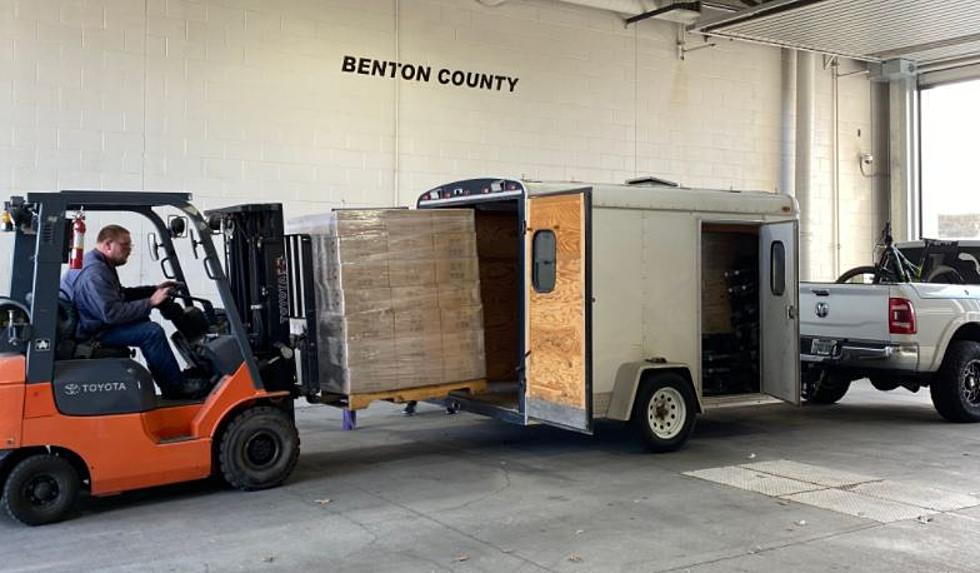 Vegas Officer Drives 15 Hours to Help Benton Sheriffs Ukrainian Relief
Vegas help for Ukraine at BCSO (BCSO)
Good news travels fast.
Las Vegas Officer brings huge supply of Police relief for Ukraine to Benton County
When you're working for good, word travels fast. Benton County, along with other law enforcement agencies, has been gathering supplies to assist Ukrainian Police during the conflict with Russia.
A Las Vegas Police Department detective named George Radich heard about this effort and worked in his city to gather supplies. He then loaded two pallets with all the goods and drove 15-hours to deliver them to the Benton County Sheriff's Department.
   Pallets included a lot of supplies
According to the BCSO, these supplies included:
Sealed Elastic bandages
Unopened Nitrile Exam Gloves
New Tourniquets
New black winter shirts
New black winter socks
New black winter pants
New black winter hats
New black winter gloves
Nonperishable Jerky
Nonperishable Power Bars"
   These will be sent overseas to assist officers there, also included were medical cots and other materials.
  Anyone in our area who wishes to help in this effort, through March 31st, here's the information of where to donate with either some of the above items or a check:
"
Check can be sent to:
Washington State Fraternal Order of Police
Attn: Ukraine Fund
2839 W Kennewick Ave, #356
Kennewick, WA 99336"
"Benton County Sheriff's Office
Attn: Helping Ukraine
7122 W Okanogan Pl, #A120
Kennewick, WA 99336"
15 Ways You Can Help People in Ukraine Right Now
As Americans watch events unfold in Ukraine, many wonder how they can help. Below is a list of organizations responding to the crisis in Ukraine along with information on how you can support their various missions.