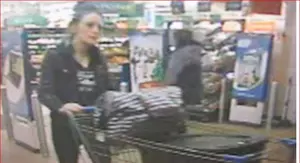 Walmart Theft Suspect Drives Very Distinctive Car
Richland Walmart theft suspect (Richland Police)
According to Richland police, a Walmart theft suspect is driving around in a car easy to spot.
Police are looking for the female suspect, believed to be around 5' 5" tall and about 120 lbs, wearing all black, as she attempted to steal a shopping car stuffed with various items at the Richland Walmart around 5:25pm on Christmas Eve.
Officials say she fled the store, and left in a BMW. It was described as an older model, tan or light gold, with a sun roof and the back rear passenger door is all black.  Obviously a replacement door, but should make this car very easy to spot. Anyone with any information is asked to call Tri-Cities Crime Stoppers at (509)-586-TIPS.