Washington Senate Unveils Transportation Package – Would Add $.11.5 Cent-Per-Gallon Gas Tax
(Stephen Brashear/Getty Images)
The plan recently released by the Senate differs in many ways from last year's House bill.
The Majority Coalition Caucus has put forth a $12.4 billion dollar budget, that would be used over the next 12 years.   This plan is considered an "answer" to last year's House bill that was not voted on, and never came about.    While the House bill was $9.5 billion, the Senate never voted on it because it contained money for the (now cancelled) controversial Columbia River Crossing project, that would have built a new bridge over the Columbia River near Vancouver and Portland.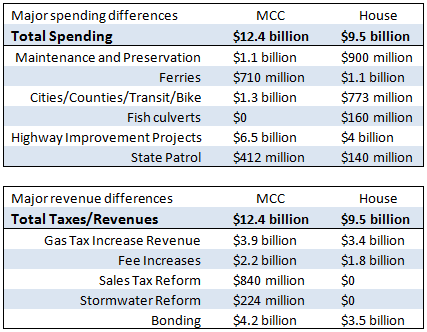 The Senate plan also includes reforms that would reduce the cost of building roads, which supporters say would make the dollars go even farther.   It also, you will note, does not contain any money for fish culverts and more money for the Washington State Patrol.
   This package would be in addition to the $8.7 billion the state spends each biennium, or with every two-year budget, on a regular basis.
 While citizens are not warm to the idea of a gas tax,  most legislators believe numerous roads, bridges and other projects are in need to upgrade, and the state is in need of what they refer to as "congestion relief" when it comes to building new ones.