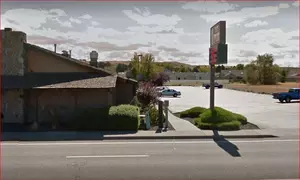 Weird! Drunk Bartender Takes Out Own Bar Owner With Car
Allegedly intoxicated bartender hits car in parking lot where she works, knocks over boss! (Google Street View)
A Kennewick bartender is likely out of a job after a Saturday night incident in which she allegedly struck a car with her vehicle, and in the process knocked her owner-manager several feet across the parking lot of the bar where she worked.
According to yaktrinews.com, 34-year-old Shyla Armijo crashed her car into another vehicle that was parked at the The Pub on West Clearwater Saturday night.
That vehicle then slid and hit the owner, who was standing not far away! He was thrown several feet, but fortunately only sustained minor injuries. Police reported a third vehicle was also hit during the accident, according to yaktrinews.
Police said she showed obvious signs of impairment. Nothing was said in the police report, but we're thinking it's likely she probably is not working there anymore.
It's believed she was not on the clock at the time of the accident.