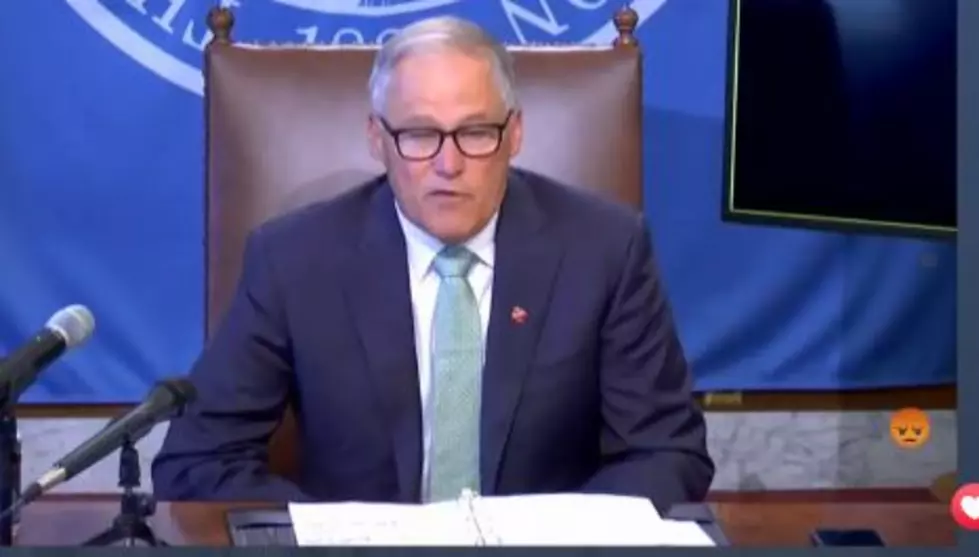 County Officials 'Desperately' Seeking Tainted Inslee Apples-Contamination Threat
Now Douglas County trying to round up tainted Inslee Apples (TVW)
It appears Gov. Inslee's attempt at generosity may have gone beyond the very insensitive discovery of apple maggot tainted apples he brought to Malden, WA last Thursday, Sept. 10. A crate of apples picked from his backyard were given to the Mayor of Malden, during Inslee's whirlwind visit after their ravaging fire.
Inslee also brought more of his apple crates to several other burn sites and communities across the north and central parts of the state.
Now, in the last hour, Douglas County WA officials on their Facebook page published the following information. It seems some or all of the crate(s) brought by Inslee may have wound up in areas where the nefarious apple maggots (codding moth) can spread to 'clean' areas. From Douglas County Facebook Page:
"***We Need Your Help***
On September 12, 2020 Governor Inslee visited Bridgeport to survey the damage from the Pearl Hill Fire. With him he also brought honey crisp apples grown at the Governor's Mansion in Olympia, some of which he also gifted to the town of Malden and a retirement home in Omak during his visits in the days prior. Unfortunately, we learned today that the apples that were delivered to Omak have tested positive for apple maggot larvae. Thurston County is currently an Apple Maggot quarantine area but Douglas County is not.
We are desperately seeking the help of all Bridgeport and Douglas County residents or anyone who may have any information to help us locate the apples that were brought to Bridgeport."
    There are 18 counties, mostly on the East side of the Cascades, where it's illegal to bring in homegrown or hand picked (non farm controlled) apples, due to massive West side infestations of the apple maggots. These 'clean' zones are where our state's #2 crop is grown.
  Douglas County officials went on to say:
"Apple Maggots are an incredibly serious pest and could have dire consequences for the orchardists of Douglas County if we are unable to find the infected apples and mitigate the effects immediately. Douglas County orchardists, regulators, and processors have worked tireless to ensure that our area stays free of apple maggots and this event could have serious implications for the region. It is of the utmost importance these apples are safely disposed of immediately."
  These are fast spreading obnoxious insects, and can only be eradicated with massive pesticide and even cutting and burning of tree campaigns.
  YES, he was trying to do "a nice thing," but it appears Inslee's ignorance of fairly common WA Ag laws and policies, and the lack of knowledge and oversight by his staff could potentially lead to a major issue for some WA apple growers and farmers.
 To see the Douglas County post for yourself, click on the button below.
Enter your number to get our free mobile app