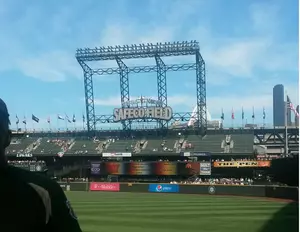 Safeco Field Going Away? At Least The Name Is Starting In 2019
In 2 years, that sign will be gone. Picture we took before M's Angels game in 2015 (Townsquare media)
The search has begun for a new stadium sponsor to replace the only one the Mariners have ever had for the stadium they moved into in 1998.
For nearly 20 years, Safeco Field has been the iconic name for the Seattle Mariners stadium. Despite being nearly two decades old, it remains one of the BEST venues in all of professional sports.
Having been there twice, and going again this summer to watch the Yankees take on Seattle, Safeco is a great place to watch sports.
But according to Seattle media, including the Seattle Times, Safeco and the Mariners announced Tuesday that after the 2018 contract expires, the insurance firm will not be renewing the rights after 20 years.
The late great Hall of Fame Announcer Dave Niehaus threw out the first pitch when it opened in 1998, now the team has about a year and a half to find a new suitor to put on the field.
But even when that happens, many will still refer to it as Safeco for identity purposes. To this day, people still call Invesco Field in Denver "Mile High Stadium."
It will probably remain the way for Safeco as well.