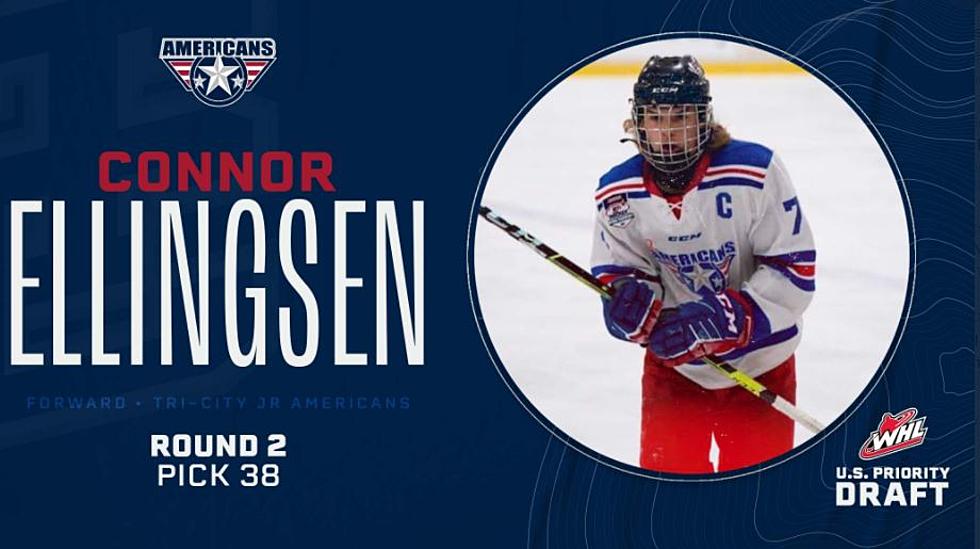 TC AMS Take Pasco Player in WHL U.S. Prospects Draft
Pasco's Ellingsen chosen by Ams in U.S. Prospect draft (TC Americans Twitter)
Pasco hockey prospect Conner Ellingsen is no doubt feeling pretty good Thursday.
PASCO TCAHA PLAYER TAKEN BY TC AMS IN US DRAFT
The Western Hockey League began what is called the U.S. Priority Draft in 2020.  U.S.-born amateur players from 20 states are eligible to be taken. Each of the 22 WHL teams gets to draft two players. According to the Americans:
"Players eligible for the draft are 2006-born players who reside in Alaska, Arizona, California, Colorado, Hawaii, Idaho, Kansas, Minnesota, Montana, Nebraska, Nevada, New Mexico, North Dakota, Oklahoma, Oregon, South Dakota, Texas, Utah, Washington, and Wyoming."
Ellingsen was taken 38th overall, and the 6' 170lb forward currently plays for the Tri-City Amateur Hockey Association. He's on the Tri-City Junior Americans 16-U AA team.
Ellingsen was part of a strong team in 14-U back in April, where he served as Team Captain for his squad in the USA Hockey-Chipotle Tier II National Championships.
   In that tournament, he scored 5 goals as the team went 3-2.
 WHO ELSE DID AMERICANS DRAFT?
The AMS also drafted Camerin Cordona. According to the Americans:
"(Cordona is a) " five-foot-ten and 146-pound forward from Anaheim, California. The 15-year-old is currently playing with the Anaheim Jr. Ice Dogs 15's and has collected 37 points (26 goals and 11 assists) through 36 games played this season."
Friday, the Americans will be a part of the WHL Prospect or Bantam Draft, where they will pick the rest of their young talent who will join the team in training camp once they become eligible age-wise for the league.
ALSO: Former Minnesota Twins All-Star's Home for Sale - Complete With Brewery