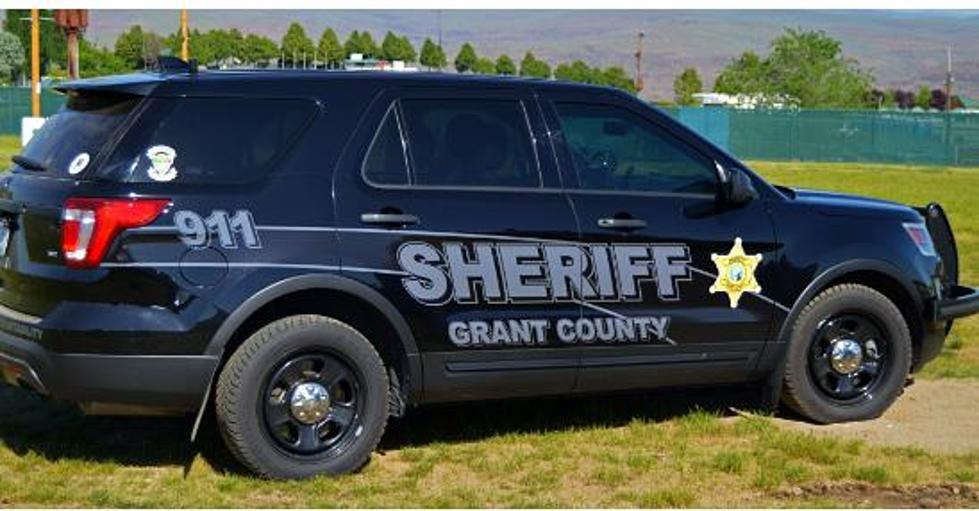 Wild Chase Suspect Nailed in Grant County After Truck Catches Fire
GCSO
The Grant County Sheriff's Office has now released information about a wild weekend crime spree that ended with a suspect being arrested in a field.
The suspect's crime spree originally began in Union Gap
Saturday afternoon around 4 PM, Grant County Deputies were alerted to a suspect who was being pursued for stealing and threatening with a firearm in a Union Gap business, near Yakima.
33-year-old Shaun Jackson of Bellingham had allegedly pointed the firearm at someone in the store, then fled in a car. Union Gap Police pursued but the chase continued.  Washington State Troopers also joined the pursuit but terminated it because of public safety concerns.
Jackson then entered Grant County on State Route 243 southeast of Desert Aire. A short time later the GCSO got a report about a truck that had just been stolen east of Beverly, north of Mattawa off SR 243.
The vehicle left at the scene matched the description of the one Jackson was driving. A short time later, Deputies located the stolen pickup on SR 262 about 18 miles southeast of Moses Lake.
Jackson drove the truck into a nearby wildlife refuge, at one point swerving towards a Deputy who was coming towards him. He then sped off into a field, but the truck became disabled and caught fire. Jackson tried to flee from the scene but was quickly run down and captured.
He was returned to Union Gap, where he's now in the Yakima County jail on suspicion of several crimes including felony eluding, possession of a stolen vehicle, theft of a motor vehicle, second-degree assault, and theft.
See the Must-Drive Roads in Every State