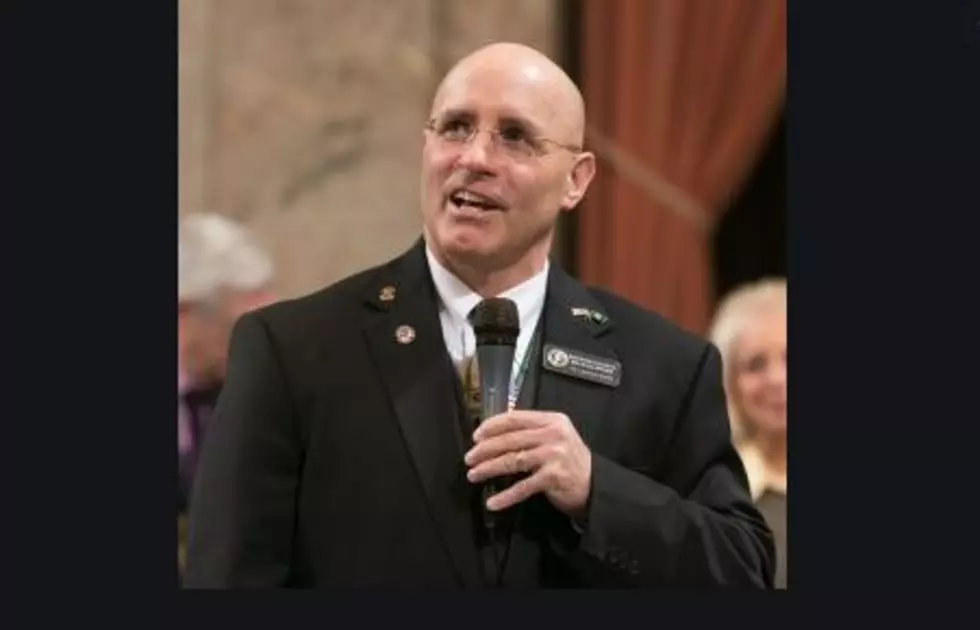 BREAKING–8th District Rep Klippert Will Challenge Newhouse in 2022
Rep. Brad Kilppert (8th District Tri Cities) will challenge Newhouse in 2022 (House Republicans)
Perhaps some elements of the GOP are not fully aware of the ripple (more like 'tsunami') effect of the attempted second impeachment of President Trump.
More of them will be now, as late Tuesday night, State 8th District House Rep. Brad Klippert announced his candidacy for the 4th Congressional District now occupied by Dan Newhouse.
Newhouse was one of the "10" GOP in Congress who voted in favor of the impeachment led by House Speaker Nancy Pelosi. In it's wake, many of the County GOP Committees and Parties in the 4th. demanded Newhouse resign. He refused.
Some say since then he's been playing damage control, releasing a series of informational emails about what his roles will be the next two years; and joining with other Republicans to push back against Biden's agenda.
That obviously has not changed the minds of much of the GOP in the 4th. You may recall Newhouse beat Clint Didier only 50-49 percent during the runoff election following Doc Hasting's retirement in 2014. Now he's facing a tough challenger in 8th. District Rep. Brad Klippert.
Klippert is a shrewd, fiery, tough legislator, he and fellow 8th District Rep. Matt Boehnke have fought hard for the District that includes Kennewick, Richland, and part of Benton County. Klippert is a staunch Constitutionalist, and the 2021 Legislative session has seem him introduce a flurry of bills designed to end the COVID lockdowns, and curb the powers of Gov. Inslee now, and future governors to come.
Here's the letter released by Klippert via the Benton County Republican Party:
My name is Brad Klippert,
Today I announce my intention to run for the U.S. House of Representatives Congressional Seat, in the 4th Congressional District, in the 2022 election cycle.
A member of the Washington State House of Representatives a position that I have held for 12 years.
I am a Deputy with the Benton County Sheriff's Office, a position I have held for 21 years with over 27 years of law enforcement/criminal justice experience.
I am also COL Klippert CMDR of the WA State Guard, with over 33 years of uniformed military leadership experience, which includes serving 20 years as a helicopter pilot in the Army, Army Reserves or National Guard, with 3 deployments.
My education includes a Masters Degree in Teaching and I certified as a K-12 teacher in WA State in 1997.
Additionally, I am a graduate of Central Washington Universities Paramedic program, have served as a Nationally Certified Paramedic and have served as a "First Responder" in one capacity or another for over 27 years.
Why have I decided to run for Congress:
I believe in the Greatness of the United States of America, and the Greatness of our Constitution! "Land of the Free and Home of the Brave."
I believe in Free Enterprise and our Free Market Economy.
I believe our Free Enterprise/Free Market economy fueled by the innovation and hard work of American businesses and hard-working Americans has made us the RICHEST nation in the history of the world.
I believe God's blessings, America's uniformed service men and women/our Veterans and hard-working American businesses and American workers have made us the GREATEST nation in the world.
I believe in US growth and prosperity.
I believe in the American dream!
I believe in, support and will fight to regain record low unemployment rates for all Americans to include Blacks, Hispanics, women and minorities that existed pre SARS-COVID-19.
I believe in US Energy Independence and the US being the world's largest energy producer.
I believe in and support a record high US Economy and Record highs in the US Stock Market.
I believe in our military, a strong military defense, US Sovereignty, legal immigration and secure US borders.
I believe in: "One Nation Under God, In God we Trust and God Bless America!"
I believe ALL lives matter, from conception till natural death, no matter one's skin color!
I believe, as the Reverend Dr. Martin Luther King did, that men and women, boys and girls should "be judged by the quality of their character not the color of their skin!"
I believe hydroelectric power is renewable power and will fight to protect our hydroelectric dams!
I believe in safe, affordable, clean baseload nuclear energy.
I am proud of our heritage and our proud history associated with the B-Reactor, the Manhatten Project and the Hanford Nuclear Reservation.
I believe as Americans we must fight for a balanced budget and reduce our national debt.
I love our farmers, ranchers and incredible agriculture industry of the pacific-northwest.
I love our mountains, rivers lakes and streams; our timber industry and will encourage and support responsible forest management.
I love hunting, fishing and stand strong in support of our 2nd Amendment rights.
I believe that, "all men are created equal, that they are endowed by their Creator with certain unalienable Rights, that among these are Life, LIBERTY and the pursuit of Happiness!"
I believe that through hard work, ingenuity, grit, and determination; with God's blessings, you and I can work TOGETHER, I say again, work TOGETHER, to make a better, stronger more prosperous Washington state and the United States of America, for each and every one of God's children tomorrow, than we have today!
That is why I/Brad Klippert will be running for US Congress in the 4th Congressional District in the 2022 election cycle!