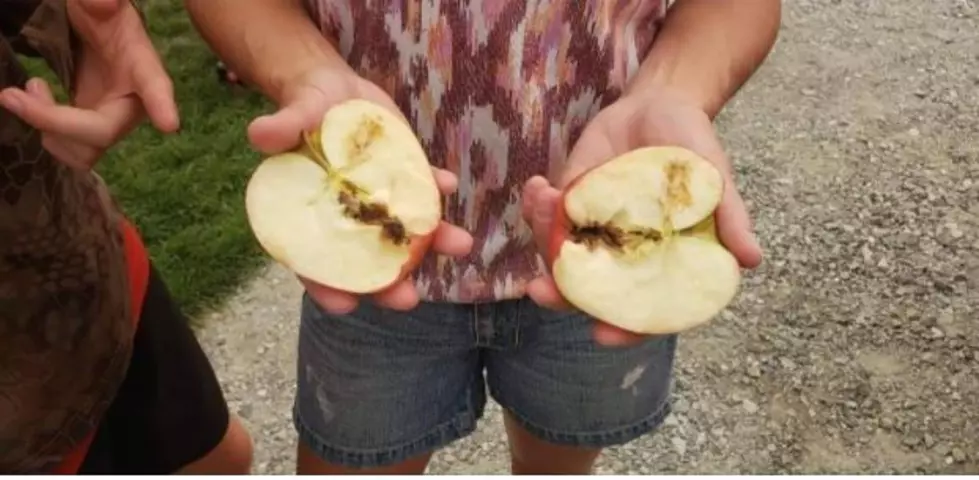 Inslee Brought Moth Infested Apples to Malden During Fire Visit
Inslee brings maggot moth laden apples to Malden (Facebook-Rush Limbaugh fan page)
Some news outlets are saying he didn't know, and the Director of the Washington State Department of Ag says he probably didn't know. You and others know, you've seen the signs for years.
But the Washington State Farm Bureau released this statement, according to the Capitol Press Online:
"After serving for nearly eight years as governor, it is disappointing he hasn't learned more about the laws created to protect the state's second-largest industry,"
They're referring to the crate of apples picked from Gov. Inslee's back yard, that were given to the Mayor of fire-ravaged Malden, WA last Thursday. During a whirlwind visit that lasted 5 minutes in the actual town, Inslee spoke briefly to citizens and officials, presented the apples to the Mayor, then zipped off in a car up the road to do TV interviews and photo ops for the media.
The honeycrisp apples were laden with apple maggots, or coddling moths. One of the citizens cut open an apple after the Governor left, and found they had maggot damage. Washington State Law prohibits transporting apples and certain fruits from the West side to the East, because of the maggot problem.
Our photo is from a Facebook post put up by a person who was at the actual Malden event.
Apparently Inslee was not aware, say state officials, of the long standing law. Virtually everywhere you drive in Eastern WA, you see the apple maggot quarantine area signs. It's well known in Ag Country.
Because Western WA is laden with apple maggot issues, home grown or picked fruit from there is banned in 18 counties -mostly on the East side--to keep the apple growing regions pest free. Apples are the state's #2 export crop.
According to officials, violating the apple maggot quarantine laws are punishable by a $1,000 fine and up to 90 days in jail. However, State Ag officials say they will not be issuing citations or fines, and usually they don't otherwise in cases involving such transport. It doesn't happen very often, say officials, and so far no major issues have resulted when someone does do it.
According to the Capitol Press, the Governor's office "is looking into the issue."
Senator Mark Schoesler of Ritzville, whose district includes much of Whitman County and Malden, said this (from the Capitol Press):
"I appreciate the governor's gesture in coming to Malden, but this was just a case of poor judgment, Our leaders are expected to know the law." 
Nobody expects him to be jailed, but it's another example, say media critics, of the increasingly tone-deaf attitude and approach Inslee has taken to his job as Governor the last 8 years. One would think his staff would have caught this and reminded him not to do it.
For more on this story, click on the button below.
Enter your number to get our free mobile app