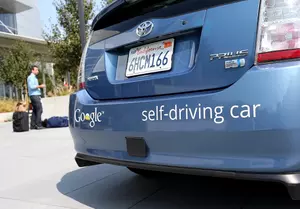 Study Says We're Nowhere Near Ready for Self-Driving Cars
Survey shows people not interested in self-driving or autonomous cars (Getty Images)
Google may be all frothy over them, even ride-share service Uber is on board. But according to a recent consumer survey, only 5% of Americans would want one.
A study done by the research firm Klashwerks, and reported by Media Post and Inside Radio, shows it will take a long time before the public is even interested.
The recent study spoke with 3,000 people and came up with the following breakdowns of how we feel about self-driving cars (cars that use computers and GPS to guide them without you doing any work).
45% said they needed more information before making a decision
19% said they're cool but they would never buy one
18% said they are terrifying
12% said they're a lot of hype, won't see them for a long time
5% said they plan to buy one as soon as possible
2% said they'd never heard of them.
We're pretty sure the research will continue, and it could be that the next generation or one after that gets around without hands on the wheel. But for NOW, these results show when you combine catagories 2 through 4,  49% percent of people either fear or have no interest in the technology. And most of the rest are dubious.
The 5%? Guess they will be the ones we want to avoid on the roads in the future, as Google and other technologists believe they will be on our roads in the hands of consumers by the end of the decade.  That's according to numerous research reports.
If California governmental officials have any say, there will be these cars on the road soon. Gov. Jerry (Moonbeam) Brown and the legislature have allocated funding for the development and use of such vehicles, potentially in state government fleets.