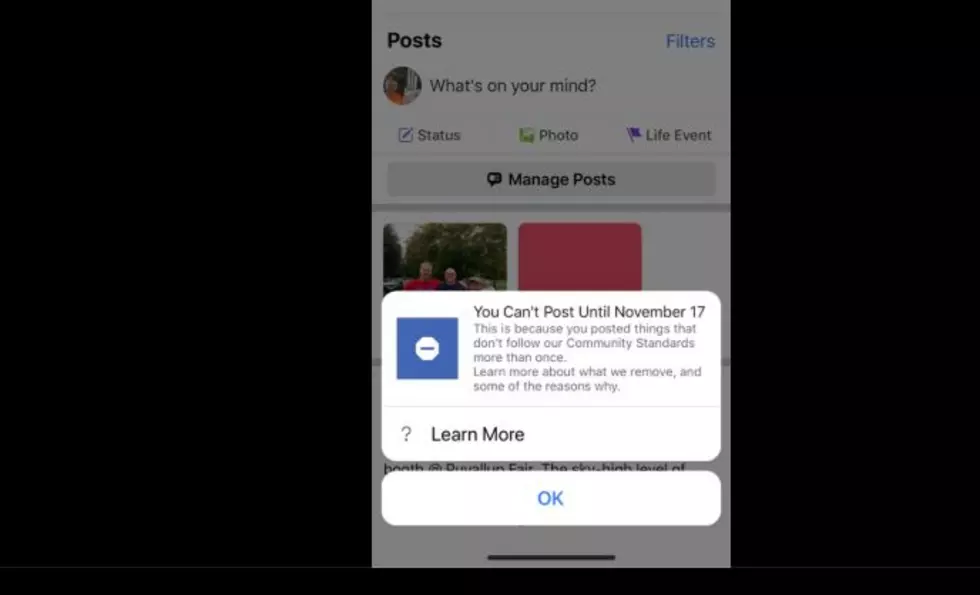 Tax Advocate Tim Eyman Lands in Facebook "Jail"
Tim Eyman Facebook--screenshot courtesy of Term Limits on Taxes Round 2 Facebook page
Newstalk870 has learned that Tax Advocate Tim Eyman, fresh off winning his battle by having I-976 pass ($30 car tabs and tax limitations except for voter approval)  has now found himself in Facebook jail.
Like many you've seen on the social media site that this has happened to, Eyman has had his posting rights suspended for at least 15 days. The exact transgression was not spelled out, but supporters of Eyman note it's ironic this happened shortly after the general election.
In addition supporters have started up a legal defense fund for Eyman in his growing battle with Attorney General Bob Ferguson. Ferguson has stepped up his attacks on the tax advocate, whom most state officials view as a very big annoyance.
Eyman says Ferguson is running for Governor in 2020, and he believes suing conservatives will impress Liberal voters. Ferguson said he was going after Eyman with a 2.1 million dollar fine for alleged voting, legislative and other 'transgressions' and seeking a lifetime ban from being allowed to file Initiatives.
Ferguson has gone back as far as 2012 and sued Eyman for a couple of items that were allegedly not disclosed with the Public Disclosure Commission.  Eyman says they did not have to be, Ferguson says they did. Over the last couple of years, the two have waged a war. Eyman's attorney said this:
"For all the heated rhetoric earlier today, this dispute is simple: whether two transactions from 5 years ago needed to be included on 2012's campaign reports. The Attorney General believes they should, we do not. From the beginning, Mr. Eyman has made clear he did nothing wrong … It is chilling that the stated purpose of this action is to permanently bar him from participating in the political process in this State."
A source directly tied to Eyman thinks the Facebook issue is due to someone or persons 'reporting' him, and those 'person's' are affiliated with state government.